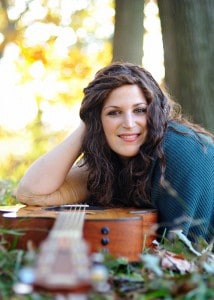 Please welcome Chanale for today's interview.
Introduce yourself! I'm Chanale, an orthodox singer/songwriter/stay-at-

home-mom, that prefers the studio to the kitchen. My husband is a Sefardi who loves a good (fancy/complicated) meal but unfortunately was short-changed in that department. We live in Brooklyn with our 2 daughters, who, like their Mom, enjoy simple food. I blog all things music and motherhood, 3 times a week at 

www.chanalesing.blogspot.com.
What do you remember about family meals and your mother's cooking style when you were growing up? I remember my mother preparing lovely meals, healthy and delicious. Some of my sister's were picky but I liked everything she prepared. We lived in Miami so there were a lot of out door pool-side meals and barbecues.
How is your cooking style different from your mother's? My mother's cooking is very recipe oriented. She is a real maven when it comes to baking and she literally ENJOYS being in the kitchen. Cooking is an outlet for her, whilst for me it's more of a stressful situation. We both make good food but my mother's food really shouts "I love cooking" while mine chides "do you know how much time it took to prepare this, eat me now!".
What is your favorite gadget? My sister just hooked me up with a Cutco chopping knife that I have been using like crazy. Cutting food was usually the worst part of food preparation but now I cut pineapple like an iron chef.
Do you entertain, and in what circumstances? What is the biggest party or meal you have hosted to date? I make big Shabbat meals every few weeks for about 15 people. My cooking mishaps are definitely a source of entertainment for my guests as I have more than once put a bundt cake down on the table and announced that regrettably the contents will have to be pried out with everyone's desert spoons.  A few months ago, I single-handedly prepared an after-wedding dinner for my brother and sister-in-law, for 30 guests. I made every single dish from scratch and managed not to burn one thing. Big success in my book.
Can you share a typical daily menu? Weekly menu? I wish I could but my meals are sporadic, temperamental
and unpredictable.

So what DO you like to cook? My mother always made the best shnitzel/fried chicken cutlets and its the one supper my kids can devour both happily and eagerly. Shnitzel is a food both my parents grew up eating, (my paternal grandmother even named her dog shnitzel!) and when I prepare it, I'm reminded of home. I use organic chicken breasts that I trim and pound, giving my girls a chance to whack at it too. For a while I was using seasoned bread crumbs, but lately I have been more careful about preservatives and artificial flavors so these days its a combination of matzah meal, garlic powder, onion powder, dried cilantro, salt and paprika for color. Organic eggs for the coating, I dip the chicken in the breadcrumbs and fry on a medium fire, making sure not to overcook. I drain on a paper town and serve them wrapped in a paper towel so my kids can eat it as finger food. It's always a winner.

Lately I have also been experimenting with cold quinoa salads. The one I like best is tossed with craisins, slivered roasted almonds and seasoned with olive oil and salt.

One more food my kids will eat without hassle is buckwheat. I serve it warm for breakfast with salt, sour cream and milk. My husband can't handle the smell so it's really a special treat for when he is out of town or out for the day. Every one of my 6 siblings loves 'shvartze kashe' and its a food my mother still prepares for us when we come home to visit and say "Ma, I'm staaaaarving."

How has your cooking style evolved over the years?When I was single I made eggs in the microwave. One marriage and a couple of cookbooks later, I can prepare a beautiful meal I am proud to share. I understand now that cooking good food is an important part of homemaking, and that I can express love for my family through nutritious and delicious meals.
Can you recommend any cookbooks, TV shows or websites that have inspired you? The "purple cookbook" is my go to for basic recipes that can be embellished and built up. I peruse www.weelicious.com 

for healthy recipes that my children might actually attempt and lately 

www.busyinbrooklyn.com

 for traditional and creative recipes. Sometimes I let my kids watch the cooking channel and they ask me to cook Inna's coque-au-vin or Giada's Stuffed Italian Meatloaf. That's when I shut the TV.

What posts on CM have you enjoyed? Do you have suggestions for future posts? What I would love to see are more Sefardic style recipes. I find American main dishes to almost always contain some sort of sugar in the ingredients while Sefardic food (like the coucous recipe) rarely contains any sweeteners aside from raisins or dates. I would love to learn how to make the food my husband grew up with, perhaps with some great shortcuts that would cut the prep down to 30 minutes or less.