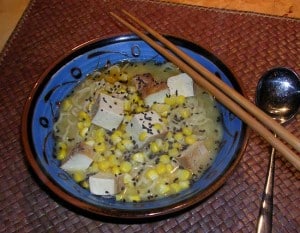 Please welcome reader Karen Hyams for today's reader interview.
Tell me about yourself. 

I'm Karen – I live in the forest outside Seattle, WA with my husband and teenaged son. My husband does not eat meat, and my son's diet keeps changing. He currently eats everything in sight. I have two web sites; The Daily Grind, Chop and Fry for food, and 

karenhyams.com

 for photography.

What do you remember about family meals and your mother's cooking style when you were growing up? We sat down as a family every night, all six of us. My mom got married at a time when she was expected to keep a perfect house and put a square meal on the table every night, and went into her marriage knowing how to do neither. She was never a brilliant cook (and in "what was the worst meal your mother made you eat" contests, I always win) but she got us all fed. She was great at holiday meals, though.
How is your cooking style different from your mother's?  Things have changed so much since I was eating my mom's food. Vegetables were canned or frozen, except corn on the cob. There were far fewer ingredients available then, especially produce. My food is fresher, of course, and I'm a more ambitious cook. Plus I don't cook meat; that's a huge difference.
What is your favorite gadget? It's hard to pick! I don't have many gadgets, and use every one of them. I'd say my immersion blender and my reamer are the things I use most often, but I wouldn't give up my Cuisinart for anything.
Do you entertain, and in what circumstances? What is the biggest party or meal you have hosted to date? My husband isn't very social, so we don't entertain much, which is too bad. I enjoy it. We had a big housewarming party once, with maybe 60 people all told. It was fun.
Can you share a typical daily menu? Weekly menu? People fend for themselves until dinner – I don't eat much during the day. I make steel cut oats in the crock pot overnight. During the week I will make beans at least once, pasta once, and that's about as typical as I get. I have my web site on my phone, so end up in the grocery store looking up recipes for ideas for the night.
How has your cooking style evolved over the years? I worked in the restaurant business for many years, and my food tended to reflect what I was learning at various restaurants. I worked with some very talented chefs, and almost never cooked the same thing twice. Now I'm not as inventive, which is fine with me.
Can you recommend any cookbooks, TV shows or websites that have inspired you?  Books: La Varenne Pratique, How to Cook Everything and How to Cook Everything Vegetarian, The Moosewood Cookbook, Mastering the Art of French Cooking. Web Sites: 101Cookbooks, Viet Kitchen, The Spiteful Chef, Smitten Kitchen, Just Hungry
 What posts on CM have you enjoyed? Do you have suggestions for future posts? I liked the ones on teens and food, and the one about how efficient are crock pots? I'm trying to learn more about using a pressure cooker (I recently took a class), so I'd be interested in that.
What is the most unusual dish you've ever made? Compost Cookies – anyone can make them, but they are weird. They have potato chips in them, along with a bunch of other things. They are outrageous.
What is the oldest item in your kitchen? The newest? Oldest is my trusty cast iron 8″ skillet, from a foundry that closed in the 1930s. I use it almost every day. Newest is a chinoise.
What would you like to change about your cooking style in the coming year? I really want to master a couple of Indian recipes, things that would be easy enough to include in our regular meal roster.
Please share a favorite recipe and cooking tips. I love making Pasta Puttanesca – it is too easy and delicious. As for cooking tips, really take a look at your work space and think about what you could do to make things more efficient. Take a knife skills class, and take other classes when you can. Buy the best chef's knife you can afford. The photo is from one of my favorite recipes, Boom Noodle Miso Ramen.