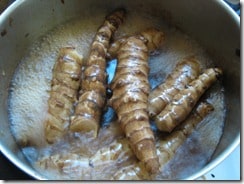 Cooking Manager readers may recognize this recipe from the interview with Ruth Kilner. I'm reposting it here to make it easier to follow. Did you know that Jerusalem artichokes are a New World plant?
Ingredients:
1 medium butternut squash
2 sweet potatoes
25 grams butter
1 chopped onion
2-3 cloves garlic
3-4 carrots
1-2 potatoes
1-2 Jerusalem artichokes
An inch or so of finely chopped root ginger (optional)
Instructions:
Peel the vegetables.
Cut squash and sweet potatoes into chunks. Roast together until soft with a little oil spray and salt for 1/2 to 1 hour, depending on the size of the chunks.
Melt butter and saute chopped onion and garlic until onion is translucent.
Add carrots, potatoes and Jerusalem artichokes, peeled and roughly chopped.
Add ginger if desired.
Cover, and cook for about 10 minutes.
Add the roasted vegetables, cover with water, and add a a little artificial chicken stock powder.
Bring to the boil, and simmer for 1/2 hour.
Puree in a food processor, or with a hand blender.
You may also enjoy:
Beet Soup with Cumin and Ginger