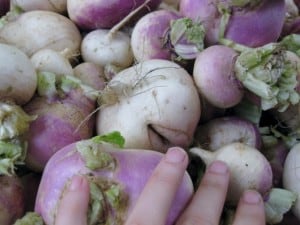 Reader Ms. Krieger was experimenting with rutabaga, and developed this recipe for Passover. She thought it would work equally well with turnips, and suggested I add it to my links for turnip recipes.
Recipe: Unstuffed Rutabaga or Turnip Casserole
Ingredients
3 large turnips (or 2 large rutabagas)
1 lb. (1/2 kg.) ground beef
1 cup cooked rice or bulgur
1/3 cup finely minced onion
1 egg
cinnamon
crushed red pepper flakes
Sauce ingredients:
28 oz. diced tomatoes (one big can)
2 Tbsp. vinegar
1 Tbsp. smoked paprika
1 clove minced garlic
1/4 tsp ground allspice
2 Tbsp. ketchup
Instructions
Scrub turnips, then cook in water until somewhat softened. Remove from water and set aside to cool. Remove peel.
In a large bowl, mix meat, rice/bulgur, onion, egg, 1/3 cup diced tomatoes. Then add salt, pepper, cinnamon and red pepper flakes to taste. Don't skimp on the seasoning! Set aside.
Mix the remaining diced tomatoes, vinegar, ketchup, paprika, garlic and allspice in a small saucepan. Heat just until boiling, then remove from the heat.
Slice cooled turnip into large, thin (1/8 to 1/4 of an inch thick) slices.
Put a Dutch oven (a big wide pot) on a burner set on low heat. Pour a bit of sauce in the bottom. Then line the bottom with a layer of turnip slices. Shape meat mixture into meatballs and put a layer of meatballs into the pot. Then another layer of turnips, then another layer of meatballs. Continue until all meat and turnips/rutabagas have been used up.
Pour the remaining sauce over the turnips and meat. Bring to boiling over medium heat; reduce heat and simmer for one hour.
Preparation time: 20 minute(s)
Cooking time: 1 hour(s) 30 minute(s)
Number of servings (yield):
I recommend doing this recipe in two steps, by cooking the turnips or rutabagas early in the day or the day before and refrigerating.
Thanks Ms. Krieger!
You may also enjoy: