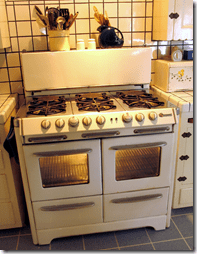 Reader Ruth Kilner, interviewed here, broke her oven while cleaning it. She asked me to help her shop for a new one, by advising her what features are useful. Before writing I asked my friend Miriam F., whom I consider an expert on kitchen equipment. She said that a feature she recommends has become more common in the last few years: a "true" convection.
Ovens have gas or electric heating elements on the top and bottom. The problem is that when you place items on more than one rack, the top of the upper item and the bottom of the lower item get brown while the middle doesn't. This is the case with my electric Electra brand. I need to set the timer for approximately half the cooking time, then switch the trays. I do have a fan that is supposed to circulate the heat, but because it is placed in the back of the oven where there is no heating element, it doesn't make much difference.
You can identify a "true convection" (real "turbo") because it has a heating element surrounding the fan.
Before you shop, make sure that your old oven can't be repaired. The technology of ovens has not improved much and as with all appliances, parts tend to be more shoddy than in earlier years.
Here are more features to consider for when buying an oven. Many apply to the purchase of any major electrical appliance. Thanks to Cooking Manager fans on Facebook for their input into this question.
Gas or electric? This depends on the cost and availability of gas in your area. Also, know whether you want a built-in oven that fits into a cabinet, or a stand-alone model that may have a cooking range on top.
Heating settings. For standard baking, ovens heat from the top and bottom. For broiling, the upper element only is used.  My oven has a "pita" setting that heats only from the bottom, which would probably work for pizza too. There may be other settings. Check that any fan has a heating element surrounding it to distribute heat evenly.
Size. This is one of the most important decisions. Do you want one large compartment or two smaller ones? Heating up a smaller oven is more efficient for one item, but if you bake a lot or need space for a turkey or a special baking pan you will want a big compartment. And be sure to measure your available space and pans before going to the store.
Service and parts. Is this a brand that is common in your area, or will you have to send away for parts? Poll your friends and neighbors regarding service on a particular brand. How long is the warranty? Tip: Long-term service contracts are almost never worth the price, and they generally don't cover parts. Better to put the money aside to pay for repairs when necessary. Chances are you will come out way ahead.
Cleaning. I've written about the self-cleaning feature in the context of cleaning appliances. The self-cleaning element heats the oven to 1000 degrees Fahrenheit, charring any grease or residue. It often breaks, especially if it hasn't been used in a while. The oven should be impossible to open during the self-cleaning cycle. Whether or not you get a self-cleaning oven, check for hard-to-clean seams or cracks.
Timers, clocks, and other features. I've had my oven for 6 years and I'm still not sure I know how to use the automatic settings. Chances are the salesperson won't either, so if this feature is important to you take time to read the instructions. I know that mine will turn off automatically. I can also place food in the oven and set it to turn on, then off again, at a later point.  Note: Many ovens have a safety feature that turns off the oven after two hours.
Racks. Ovens usually come with baking trays and racks. Be sure that you can get as many as you need. Can you adjust the racks within the oven or are you stuck with one arrangement?
Safety and accessibility. If you have small children, consider how easy it would be for them open the oven. Some ovens have safety locks that disable operation.  Oven doors are often extremely hot on the outside, so exercise caution when children are around.
Glass window. Some ovens come with a glass window so that you can check the food while cooking, but this may make them harder to clean, and they can sometimes break. See note below about Smeg.
Finish. Stainless steel finishes are neutral and timeless, but require a little more maintenance to keep off fingerprints. They also tend to cost more. Colors can look dated after a while, and may not match if you move or renovate. White is usually a good choice if you're not sure.
Note: Miriam mentioned a problem she had with the Smeg gas oven, and I am putting it out here for general knowledge. When she replace the glass in the door, it imploded during the self-cleaning cycle. It turned out that only one side of the glass was treated to withstand the heat of the self-cleaning. The repairman hadn't realized this, because most oven manufacturers treat both sides.
What features are important to you in your oven? Is there a particular brand you recommend, or a model that turned out to be a lemon?
You may also enjoy:
The Best Techniques for Knowing When Food Is Cooked
Getting the Most Out of Your Conventional Oven
How Thermostats Work, or Why Not to Bake when the Air Conditioner Is On