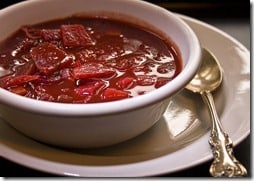 This is my third post on summer cooking. See also Cool Summer Cooking Tips and Healthy and Tasty Summer Salads.
Most of us have been programmed to enjoy hot soup. Yet there are a few soups that most of us eat cold, and summer is the right time for them. Cold soups that come to mind are:
But you know what? Vegetables can be the base of an excellent cold soup. Paula offers Gingered Red Pepper and Tomato Soup. Zucchini or winter squash soups, like Pumpkin Soup with White Wine and Rosemary, would also taste good cold.
Kate's No-Cook Strawberry-Pear Soup:
Ingredients:
4 cups hulled and sliced strawberries
1/2 cup water
2 ripe pears, cored and cut into medium dice
3/4-1 cup apple juice
2 teaspoons fresh lemon juice (or more to taste)
1/4 cup white sugar
Instructions:
Using an immersion or regular blender, puree strawberries with water, diced pears, and apple juice. Add lemon juice and sugar to taste; how much sugar is necessary will depend on the berries themselves.
I'll bet some of your favorite hot soups will taste just as good cold, especially with some yogurt or herb garnish. Experiment, because you never know until you try.
What cold soups can you recommend? Please share links or recipes in the comments.
You may also enjoy:
Healthy and Tasty Summer Salads
Keep Hot Foods Hot and Cold Foods Cold