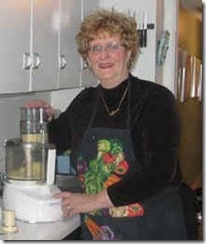 On Mondays at Cooking Manager, I interview readers. Today we have a special guest, author Norene Gilletz.
Name, location, family, website (if applicable):

Norene Gilletz of Toronto. I was born and raised in Winnipeg and lived in Montreal until 1997 when I moved to Toronto. I have 3 children, all married with their own families,  in Montreal, and Richmond, BC. My mom is 96 and now lives in Toronto in a nursing home. She was an amazing cook and we still discuss recipes! My website is Gourmania.

What do you remember about family meals when you were growing up? What was your mother's cooking style? We rarely went to restaurants to eat. My mom cooked simple meals using basic ingredients and her meals were seasoned with love. I grew up on Jewish "K rations:" kugels, knishes, knaidlach, kasha, kreplach and varenikas! We often had roasted chuck, flanken, hamburgers with fried onions, roast chicken, spaghetti and meatballs, and fried liver and onions.  My mother never made brisket or lamb – she didn't like them! Friday night was usually roast chicken or some sort of gedempte fleish. We ate the leftovers Saturday night, then Mom ground everything that was leftover, added lots of fried onions, then made "garbage knishes" by combining them with mashed potatoes and used the mixture to fill knish dough. They were the best ever! She also made breaded pickerel fillets, chopped herring, chopped liver and gefilte fish. Salmon patties were another favorite. There were always different soups. Vegetable barley soup, cabbage borscht and chicken soup were among her basics. Vegetables were usually peas, carrots and corn niblets from a can, or corn on the cob during the summer.She was an amazing baker and her cakes, pies and cookies were fabulous. She made the best cinnamon buns, rolly polly and strudels, and also made "Nothings" which is a well-known Winnipeg favorite. There is a wonderful video on my website showing how to make them: http://www.gourmania.com/reviews/Boston_Nothings.htm
How is your cooking style different from your mother's?
I cook many of the same dishes that my mom made but have lightened them up. I also use more fresh vegetables than she did and prepare fish much more often. I've written several health-focused cookbooks (sample recipes are on my website) as my cooking style has  evolved over the years. I have to watch my weight so I can't eat heavy meals on a regular basis. I use salmon a lot, love roasted veggies (my mom cooked the life out of her vegetables) and make chicken often, usually using the breast. My mother liked dark meat and it was less expensive.
How did you learn to cook?
Watching my mom and both of my grandmothers. I was always fascinated by how ingredients transformed into such delicious meals.  My first cooking classes were around with Jacques Pepin, who inspired me. After that I took more classes and ran a cooking school in Montreal. I often learned from guest chefs I brought in. I also read cookbooks rather than novels, and learned a lot from the Food Network.
Do you entertain, and in what circumstances? What is the biggest party or meal you have hosted to date?
I don't entertain much as I'm working long hours. Most of my entertaining is simple meals for a few friends when I'm testing recipes for my cookbooks. I made a brunch for 30 people on New Year's Day when my kids came to visit. At some of my cooking demos, I've cooked for a few hundred people, with help, of course! I was in the catering business and once did a party for 400.
Can you share a typical daily menu? Weekly menu?
There is no typical menu! It depends on my mood and what I'm testing for a cookbook or client. It also depends on what ingredients I have on hand. I often make a big batch of some sort of vegetable soup (always different), salmon fillets, roast chicken or maybe chicken breasts, chili (regular or vegetarian), chicken burgers or hamburgers with lots of fried onions (I'm my mother's daughter!), salads of all sorts, different grain-based dishes. Sometimes I eat the same meal for a couple of days if I'm too busy to cook and that's fine, too!
How has your cooking style evolved over the years?
The easiest way to see examples of how my cooking style has evolved is to look at the cookbooks I've written. The first book, Second Helpings Please, was a fundraiser for Jewish Women International and contains all the traditional Jewish favorites, including schmaltz (rendered chicken fat). Pleasures of your Food Processor (now out of print) focuses on preparing foods quickly. I added many lighter variations to The Food Processor Bible, which is the updated edition. Healthy Helpings (originally published as MealLeaniYumm!) has more vegetable-based dishes and the baking recipes are lighter. Each recipe includes a nutrient analysis and that kept me on my toes to keep the calories and fat content down when developing my recipes. My latest book, Norene's Healthy Kitchen, also contains nutrient analysis and is  geared to lighter, healthier cooking, using more nuts because of their heart-healthy fats. It also contains lots of glycemic-index friendly recipes so is an excellent diabetic resource. My latest book is The Frequent Fiber Cookbook which contains selected high-fiber recipes from some of my books, plus health information written with a co-author.
Can you recommend any cookbooks, TV shows or websites that have inspired you?
I have an eclectic selection of cookbooks (probably 2,000 or more and growing).  I read them for inspiration, information and pleasure. I really can't say that I have any favorites.  I usually don't bother opening up a cookbook (unless it's one that I've written)! I just open the pantry door and the refrigerator, cooking with what I have on hand, according to my mood. I cook until I run out of ingredients, time or energy, whichever comes first!I do love Mark Bittman's How to Cook Everything Vegetarian. I also love Shirley Corriher's book, Cookwise. I have learned a lot from Walter Willet's books, also Dr. Andrew Weil and Dr. Oz.I enjoy watching Ina Garten and Jamie Oliver's cooking shows because of their passion for food. I belong to the Jewish Food List and have learned a lot from the 2,000 members who belong. I recently discovered Cooking Manager and have also found some wonderful postings there.
What posts on CM have you enjoyed?
I enjoyed the posting about food processors, which is how I found out about Cooking Manager in the first place.
What is the most unusual dish you've ever made?
I usually make very simple dishes that use ingredients that are available in any supermarket. I suppose I've made some unusual dishes over the years, but if they were memorable, they became part of my regular repertoire, and if they weren't memorable, they were forgotten! One of the most fun recipes I've made is Beer Can Chicken, where chicken is placed on a beer can and grilled on the BBQ. Another interesting recipe is Pomegranate Chicken as I never ate pomegranates when I was growing up. Here's the link:
What is the oldest item in your kitchen? The newest?
The oldest item in my kitchen is probably me! I do have my mom's old tube pan that she used for baking sponge cakes and also have her extra-large loaf pan for baking cakes. I've never seen one like it before.
I also have a brand new Cuisinart Elite 14-cup food processor and love it!
What would you like to change about your cooking style in the coming year?
I'm actually quite comfortable with my cooking style. However, I'm hoping to find more time to have friends over for dinner but am busy with so many projects, including developing a kosher food line, so it will be a challenge. My friends are always happy to eat what I make but are also happy when we go out to eat. "Happiness is a home-cooked meal. Happiness is eating out!"
Please share a favorite recipe and cooking tips that work for you.
LEMON DILL CHICKEN IN A POUCH
Source: Healthy Helpings/MealLeaniYumm!
This is a perfect dish for one person or for a crowd. For a large quantity, multiply all ingredients. Easy and versatile. Leftovers are delicious thinly sliced and served on crusty rolls or in a salad.
Ingredients:
1 boneless skinless chicken breast, trimmed of fat (1/4 lb/125 g)
Salt, optional
Freshly ground pepper to taste
Paprika to taste
1 tsp fresh dill, minced (or 1/2 tsp dried)
1/2 tsp olive or canola oil
1 to 2 tbsp fresh (or bottled) lemon juice
Instructions:
Place chicken in a bowl (or a ziploc bag) and sprinkle it with seasonings. Rub with dill, oil and lemon juice. Let marinate for 1/2 hour at room temperature, or cover and refrigerate up to 24 hours.
Cut a large square of foil or parchment paper. Place chicken on the foil and drizzle lightly with marinade. Seal package by crimping edges closed. (If preparing several portions, make individual packages.) Place on a baking sheet and bake in a preheated 400 degree F oven for 20 to 25 minutes. To serve, place pouch on a serving plate and cut open at the table.
Yield: 1 serving. Best served immediately, but if you make a large quantity, leftovers can be reheated. Cooked chicken might be too dry if frozen (see Time-Saving Secret below).
Time-Saving Secret: Combine chicken with seasonings, dill, oil and lemon juice in an airtight container. Freeze for up to 1 month. Thaw overnight in the fridge, or use the microwave. (One piece of chicken takes 2 to 3 minutes on DEFROST.) Cook immediately as directed in Step 2.
Forget About the Pouch Version: Place marinated breasts on a lightly greased baking sheet. Bake uncovered at 400 F for 20 minutes. Or grill or broil over medium-high heat, allowing 5 to 6 minutes per side, basting with marinade.
Microwave Method: In Step 2, wrap marinated chicken breasts in parchment paper. Cook 3 minutes on HIGH for a single breast, 4 to 4 1/2 minutes for 2 single breasts, and 6 to 7 minutes for 4 single breasts. When done, chicken juices should run clear.
Chicken and Vegetables in a Pouch: Prepare chicken as directed, but before sealing package(s), top chicken with one of the following veggie combinations: broccoli and/or cauliflower florets, chopped green, red and/or yellow peppers; julienned zucchini, carrots and/or green onions. Sprinkle with a little marinade or white wine. Bake or microwave as directed. If microwaving, add an extra minute or two for the veggies.