Please welcome Katie for today's reader interview.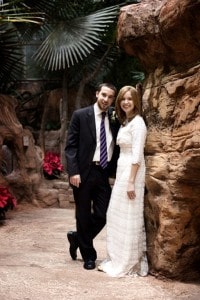 Please tell us about yourself.
My name is Katie (Chana) Harris. I grew up in Cleveland, Ohio but currently live outside of Jerusalem with my husband. Our family just expanded with the birth of our little boy! I write a food and anecdotal blog entitled Midwest Mama in Israel where I share recipes and stories about my life in Israel.
What do you remember about family meals and your mother's cooking style when you were growing up?
I was lucky enough to grow up in a house with both my Mother and Grandmother's cooking. My Mom made a lot of chicken combined with convenience foods like instant mashed potato flakes and microwave vegetables. It was my Grandmother who shared the recipes and cooked dinner most of the time. I can still remember her cooking stuffed cabbage and fried green tomatoes, only to have it sit untouched on the stove. My brothers and I always turned our noses up at the old fashioned meals, but ever since I have gotten into cooking I wish I would have observed and tasted more of her creations before she passed away.
How is your cooking style different from your mother's?
I don't think my Mom would ever dream of baking her own hamburger buns, while I cannot imagine buying them from the store. I don't believe one way is better than the other, but I love to cook and bake everything from scratch. Now when she comes to visit she is amazed at how much effort I put into a simple dinner.
How did you learn to cook?
I started experimenting at a young age with different concoctions in my parent's kitchen. When I got to college and had access to my own small kitchen I realized how relaxing it was for me to bake late at night. I started surfing the web for recipes and started baking for friends and family. It wasn't until I got married that I really started cooking anything that could be eaten for dinner. It has all come from experimentation, tips from my favorite chefs, and making the same dishes over and over again.
Do you entertain, and in what circumstances? What is the biggest party or meal you have hosted to date?
When my husband and I got married and moved to Jerusalem, we started to have couples or friends over for dinner on Friday nights or Saturday for lunch. After the first few months of marriage had passed, we decided to spend that time alone, and agreed to temporarily hold off on having guests for a while. Of course that was the weekend that several of our mutual friends decided to come to town. One asked to be invited to a meal, then word got around, and the others didn't want to be left out of the fun. We ended up squeezing 16 people into our tiny apartment in the city. Thank goodness for plastic ware- we don't even have dishes for more than 6 people! It turned out to be a blast, and I've come to love hosting a bunch of people around our table.
Can you share a typical daily menu? Weekly menu?
Usually in the beginning of the week I prepare a large batch of bread dough and put it in the refrigerator. Then throughout the week I will pull off a hunk, let it rise a bit, and prepare something around it. We usually have Calzones or pizza cooked on the cast iron pan one night, veggie burgers and potatoes the next, and there is at least one night a week for the quintessential fried eggs and toast. I also occasionally make large batches of staples like all-purpose tomato sauce and beans and freeze them in individual, meal-sized portions. Then when I want to cook up something for the week I have the bulk of the preparation done.
How has your cooking style evolved over the years?
I used to be terrified of cooking and would only bake. It always came down to the timing. It was difficult for me to prepare several different aspects of a dish that all had to come out at the same time. Now I appreciate serving a healthy meal that actually tastes good.
Can you recommend any cookbooks, TV shows or websites that have inspired you?
As I live abroad and my life has until only recently been in a state of moving, I don't have very many cookbooks. I connect through the Internet and follow several food bloggers religiously. Ree Drummond from www.thepioneerwoman.com is my fix for easy to prepare, southern style food, which I love. Deb from www.smittenkitchen.com is my go to site for anything baked. I also love the site www.tastespotting.com; I get daily inspiration from the beautiful food pictured there every day.
What posts on CM have you enjoyed? Do you have suggestions for future posts?
I loved the article on kid-friendly ways to use leftovers. My fridge is inherently always filled with leftovers, as I am just mastering the skill of cooking for two. I'll also tell you a secret. My husband is like a big kid. He loves burgers and fries, and wouldn't mind eating a tuna melt every day for the rest of his life. I would love to see more posts about kid-friendly cooking.
What is the most unusual dish you've ever made?
Kishke. It is kind of like a sausage made from grains and meat and stuffed in a casing. You lay it on a pot of stew to cook overnight. Needless to say, I did not grow up eating Kishke, and this was a very new experience for me. I will admit, even though I didn't make it completely from scratch, I still felt like I was entering a new frontier when I served it up after letting it cook for 12 hours.
What is the oldest item in your kitchen? The newest?
I wish I had some of the old pieces from my parent's kitchen. My Dad still makes eggs on his Grandmother's small cast iron pan that is close to a hundred years old. All of my kitchen appliances and tools were bought new for our wedding last year. We just received a new and very fancy stainless steel saucepan from my husband's family as a housewarming gift.
What would you like to change about your cooking style in the coming year?
I would love to incorporate more vegetables into the entrees I prepare. If that could align with what is in season in Israel at the time I would be over the moon.
Please share a favorite recipe and cooking tips.
There is a discussion about what this recipe is actually called. Some people refer to this dish as a cobbler, while others call it a buckle cake. My husband requests that I make this every single week, and gets genuinely upset if I decide to switch it up. It is great with any type of fruit you have on hand. It is also vegan, but can be made with dairy ingredients if you so desire.
Fruit Buckle Cake
Ingredients
4 tablespoons margarine or butter
3/4 cup all-purpose flour
3/4 cup sugar
1 teaspoon baking powder
1/4 teaspoon salt
1/4  teaspoon spices (I use a combination of cinnamon and powdered ginger)
3/4 cup Rich's whip (non-dairy cream) or milk
2 cups of sliced fresh peaches or nectarines, or whole blueberries, strawberries, raspberries, blackberries or a combination of fruits (or a 12-ounce package of frozen berries)
1 tablespoon sugar or your favorite crumb topping (I combine about 2 tbsp margarine, 4 tbsp flour, 2 tbsp brown sugar and cinnamon. Mix together with your fingers until the topping is in large, pea sized crumbs)

Instructions:

Preheat your oven to 350 degrees F (176 C). Put margarine in an 8-inch (24 cm) square pan or 9-inch (27 cm) pie pan and put in the warm oven to melt. In a medium sized bowl, combine flour, sugar, baking powder, salt, and cinnamon or ginger. Make sure the dry ingredients are whisked together. Pour in the Rich's whip or milk and whisk to combine. It should be a slightly thick batter. Remove the pan from the oven and pour batter over the melted margarine. Sprinkle sliced fruit over the batter (frozen fruit works fine here). The fruit does not need to be covered with batter, as the cake will "buckle" around it while baking- hence the name! Sprinkle the sugar or crumb topping over the entire thing. Bake for approximately 45-60 minutes. The cake is done when a toothpick inserted in the middle comes out clean. Best served warm out of the oven or at room temperature.
See more reader interviews:
Vegetarian Fern Richardson with Onion Soup