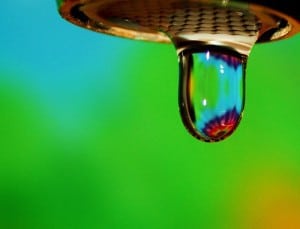 Sure you know that you shouldn't let the water run when you're brushing your teeth or washing dishes. And that you can reuse water. But there is one tip that you don't see very often, and it will save you time and money.
Use less detergent.
We don't really need so many suds to keep our dishes clean. People who make their own detergents know that the amount of suds has nothings  to do with cleaning power. Manufacturers add chemicals to make detergents have more suds. And in commercials, the bubble baths, dishes and toothpaste all have lots of foam—it's visually appealing and encourages us, especially children, to use more than necessary.
The problem is that the more detergent you use, the more precious water you'll need to dilute it. If you don't dilute it enough, the detergent doesn't clean the dishes and the excess soap (i.e. money) goes down the drain.
Too much detergent makes excess suds, and requires large amounts of water to clean off the soap. You should only need to rinse a dish briefly for it to be clear of soap.
If you think you may have been using more detergent and water than necessary, here are some tips.
Pre-dilute liquid detergents in the bottle or dispenser. This works better than trying to get out very small amounts.
Wrap a rubber band around the neck of a pump dispenser to limit the amount that comes out, especially if you have kids.
Put a small amount of detergent in a bowl or dishpan, and then add water for soaking. Start by washing glasses, then the dishes, ending with the dirtiest pots. You'll probably use less soap and water than working with a sponge and running water. Detergent added to a bowl of water must be mixed well to be effective
Attach a sprayer device to your faucet to remove soap with the least amount of water.
Put less detergent on your sponge and see if you get similar results. Experiment until you can get dishes clean with a minimal amount.
Rub detergent between your wet hands to dilute it further.
Add a few drops of water and shake to get out the last bit of detergent from the bottle.
Manufacturers' instructions often recommend using more detergent than necessary. Experiment until you get the results you need in your dishwasher and washing machine. Laundry should smell clean, not fragrant when it comes out of the machine. And extra detergent clogs up your machine.
Ten Tips for Saving Money, Energy and Water with Your Dishwasher
Save Money and Time by Washing Fewer Dishes
Mango Salsa with Coriander and Lime
Photo credit: Pink Sherbet Photography