It's Money-Saving Monday at CookingManager.Com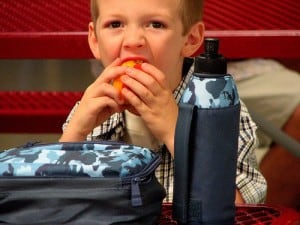 Since starting school last week, my 5 and 8-year-olds have taken sandwiches every day. One likes peanut butter with a little sugar (ugh!) and the other takes soft white cheese and sliced tomato. In honor of the new year here are some practical and nutritious ideas for your kids' (and your own) lunchboxes.
Today I'll stick to dairy or vegetarian options.
Sandwich spreads:
Experiment with pita, tortillas, and whole-grain breads.
Natural peanut butter–preferably without sugar or jelly (if there are no allergies)
Different kinds of cheese
Chumus, a middle-eastern chick-pea spread that you can buy or make.
Tuna, but that can get smelly quickly
Egg salad or a scrambled/fried egg
Many sandwiches can be prepared in advance and frozen, saving hassle in the mornings. You'll never know until you try.
Cooked foods:
Leftover noodle casserole or spaghetti
Homemade pizza
Muffins or pancakes
Tuna or vegetable patties
Pasta or potato salad. You don't have to include mayonnaise, but jarred mayonnaise is full of preservatives and won't spoil. (The acid in homemade mayonnaise means that it keeps well too, but that's a subject for another post. )
Quiche
I make extras of these for school lunches. For the long-term, they can be frozen in individual portions and partially defrosted overnight in the refrigerator. Resist the temptation to microwave them. Instead, let them finish defrosting in the schoolbag.
Containers:
With the right container or thermos, you can send anything to school including a bowl of oatmeal. Teach kids to bring home leftovers and clean the containers. Leftovers, even if inedible, give you an idea of how much to send next time. I prefer to recycle used food containers and bags from bread, cottage cheese, etc.
Fruits and vegetables:
If your kids are tired of the usual apple, pears, or banana, fill a container with grapes or sliced melon and add a toothpick. Vegetables can be plain, part of a salad or casserole, or sliced into a sandwich like my daughter prefers.
Drinks:
Only water. Juices are expensive and messy. Even natural juice fills up small tummies, and doesn't leave room for real food.  In hot weather, fill small mineral water bottles halfway with water and store in the freezer overnight. In the morning, add more water.
What do your children like to take to school?
If you enjoyed this post you might also like:
Feeding Picky Children Without Wasting Food