Please welcome reader Yonit van de Metz of Collecting Hats for today's interview.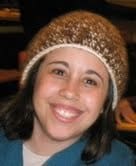 Name, location, family: Yonit de Metz, Philadelphia, wife and work-at-home mom to two toddlers and lots of houseplants.

What do you remember about family meals when you were growing up? What was your mother's cooking style?
I have realized recently how diverse my mom's cooking style is. Besides the traditional Jewish foods she brought from her own family she learned to cook  Puerto Rican food from my grandmother and aunt. She also made Italian, Chinese, American, Mexican, and all kinds of different things. We have been known to have Thanksgiving meals with kugel, matzo ball soup, arroz y gondules, Turkey, enchiladas, and flan next to the traditional pumpkin & apple pies.

How is your cooking style different from your mother's?
I've added some British dishes to the mix for my dh. I also try to use more whole grains, less white sugar where possible. I didn't try lentils or quinoa until I was an adult and now they are staples! My mom also NEVER freezes cooked food and I only started after I married. My mom's freezer has raw meat, vegetables, and convenience foods. I try to freeze leftovers when I can. I also tend to run out of ingredients in the middle of a recipe while she is more organized, but that also means I can be more innovative and creative (or have to run to the store depending).

How old were you when you started cooking? How did you learn? I don't remember exactly, but it must have been home because I definitely remember hearing from my mom about making a mess of her kitchen! She cleans more as she goes along, while I somehow manage to get flour and ingredients everywhere!
Do you entertain, and in what circumstances? What is the biggest party or meal you have hosted to date?
We love having shabbos guests and have several regulars who sometimes join us for weekday meals as well. I have never hosted more than 20 people in my home (including the time we squeezed about that many into a sukkah the size of a van).

Can you share a typical daily menu? Weekly menu?
We eat a lot of eggs, my husband works out often and wants the protein. When I first got married I was organized with set menus each week. Sunday/Monday for Sabbath left overs, Tuesday dairy, Wednesday meat, Thursday fish. Then I tried to plan a month ahead of time. As my household has gotten busier and moved four times in the past eighteen months, we're winging it a bit more.

How has your cooking style evolved over the years?
I used to be obsessive about measuring and following recipes. Now I eyeball a few recipes and mix and match using my judgment and experience to make a dish. I've also had to adapt to the ingredients found locally. We ate more avocados in Jerusalem and Texas than in Beitar or Philadelphia, for example.

What is your biggest cooking challenge?
Trying to make easy, healthy lunches and dinners with little time and energy and unreliable access to ingredients. I don't have a car so my grocery shopping is built around friends' and my husband's schedules rather than my menus.
Can you recommend any cookbooks, TV shows or websites that have inspired you?
I love the Make it Fast, Cook it Slow website and cookbook. I love my crockpot and need to use it more.
What posts on CM have you enjoyed? Do you have suggestions for future posts?
I love the sourdough posts (even though my green thumb didn't translate to yeast apparently). I also love the ideas for running a frugal house. I think of CM every time I fill my laundry detergent up less than full 🙂
What do you have in your refrigerator that needs to be used up right away?
Milk, cartons of low sodium soup for the kids, and leftovers, everything else has a longer shelf life.
Please share your favorite recipes.
Shepherd's (really cottage or gardener's since I've never used lamb) Pie, a family favorite. And sofrito, a basic Puerto Rican ingredient for seasoning rice, stews, soups, meat, etc.