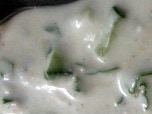 Wednesday is recipe day at Cooking Manager.
I made this sauce last night for tortillas, but my mother served it once a week to accompany fish. It also works for vegetables and patties. My kids asked me to make it again tonight. It's easy, and contains ingredients you probably have on hand. The recipe is flexible enough to  accommodate a variety of spices, vegetables and herbs.
Ingredients:
1/2 cup yogurt
1-2 tablespoons mayonnaise
1 tablespoon chopped onion: green (scallions), red or yellow
1/2 or 1 teaspoon chili powder or cayenne pepper
1/3 cucumber, chopped finely
2 tablespoons chopped parsley, mint or chives
Mix ingredients together and serve cold.