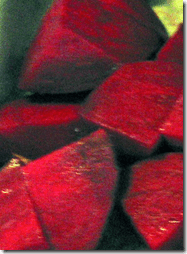 Are you afraid of beets? First of all they're bright red, and the color seems to bleed all over the place! Then there is a fear that their color and flavor will intimidate other dishes.
There's no reason to fear. You can learn to love the color, and taste, of beets. Many beet recipes call for sugar, but it can often be skipped. Choose small, firm beets with smooth skin.
In the northern hemisphere beets become available in the early spring, making them a popular option for Passover and Easter.
Notes on cooking beets:
Avoid peeling before cooking to retain their brilliant color. Scrub well, especially where the tops have been removed. It's easiest to cook whole and slip off the skin once cool (if desired). Then prepare them for your recipe.
Beets are forgiving—a little over or undercooked does them no harm. Whole beets require a long cooking time because of their density: Joy of Cooking recommends 30-40 minutes in simmering water for young beets and up to two hours for larger ones.
The pressure cooker can cut the cooking time to between 10 and 40 minutes.
Borsht, a soup made of beets, is the classic beet dish. You can also try this updated variation made of roasted beets: Beet Soup with Cumin and Ginger.
Ferment: The Forward recently listed fermented beets as one of Ten Jewish Foods to Bring Back, and includes a recipe.
Marinate: I often make a simple marinated beet salad.
Stock: Beets can be added to stock, like most other vegetables. Even your beet-haters won't notice. If they ask why the soup is slightly pink, shrug your shoulders.
Roast. I love to add round slices of beets to a tray of roasted vegetables. I don't bother to peel them. They cook more quickly this way.
Plain. Beets are a vegetable, and can be cooked in water and served on the side like any other.
Salad. Add cooked beets and add to potato salad or any green salad. I've paired them with turnip and sweet potato as well. Try this Beet Salad with Yogurt.
Beet greens. Don't forget the greens, a delicious source of vitamins and iron. Saute in oil or cook in  a small amount of water.
Puree. Lorna Sass likes to make vegetable purees in the pressure cooker. I enjoyed her combination of beets and sweet potatoes with fresh ginger and orange.
Natural food color. Add cooking water from beets to make cake or frosting pink.
Stew. Add to stews or slow cooker recipes, where the long cooking time won't matter.
Have any creative ideas for using beets? Please share in the comments.
Related:
Ten Ways to Cook a Turnip