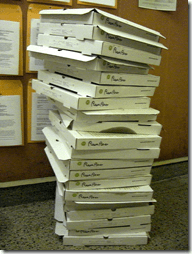 If you ask people why they resort to convenience foods and restaurants, they'll tell you they don't have time to cook from scratch. Cooking does take time, especially if you want to include vegetables and whole grains or legumes.
We all have the same 24 hours, but we have many commitments. Often, finding more time is a matter of setting priorities. And there are ways to make home cooking simpler.
Here are some ideas for setting up your kitchen, and your life, so you can avoid the temptation to order a pizza when dinner time is close.
Remember your goal. Cooking at home is cheaper and healthier. It's an effort that pays off in the long run.
Have foods you need available. It's hard to start cooking when you have limited options. This means a reasonably stocked pantry, freezer and refrigerator with raw or already cooked elements like beans, rice, soups, eggs, or meat. Preparing vegetables in bulk also helps.
Keep a clear workspace. A sink full of dishes and a cluttered counter is a sure way to thwart cooking inspiration.
Use familiar ingredients, recipes and techniques. Stick to simple whenever you are pressured for time.
Stay flexible. Flexibility comes hand in hand with experience. With practice you'll learn to make up a recipe or adjust one to use ingredients you have on hand.
But be determined. A simple meal at home is cheaper and probably healthier than eating out. It may even be faster. No one will starve if you serve tuna sandwiches once in a while.
Store ideas. Keep a list of dishes or recipe ideas that your family enjoys, to consult when you get stuck.
Plan in advance. This can involve a formal or informal menu. Think ahead about your busy days, defrost foods in the refrigerator the night before, and keep track of leftovers. Cooking on weekends may be the answer.
Break bad habits. If you are used to eating out regularly or relying on frozen dinners, it can take a few weeks to get out of the mindset. You may need to work out these changes with your family, but once you have decided to cut back stick with your plan.
Plan cleanup. If you don't cook because you fear a kitchen full of dirty dishes the next morning, see my tips for Easy Kitchen Cleanup.
What inspires you to cook at home when you're not in the mood?
You may also enjoy:
The Secret to Great Home Cooking
Pre-Leftovers and Rotating Food
Twelve Tips for Getting Kids Used to Healthy Food