Wednesday is Recipe Day at Cooking Manager.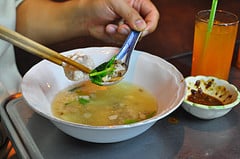 If you ever buy fresh fish cut into fillets, make sure to take home the trimmings too. You can use them to make fish stock, which is a wonderful base for any kind of soup containing mushrooms, lentil, beans, grains, onions, or whatever you have on hand. You can also use it as a base for sauces or cream soup. Store covered in the refrigerator for a few days, or freeze in small containers for later.
You can ask the fishmonger if he has extra trimmings, but make sure they are fresh.
This recipe is adapted from Joy of Cooking
.
Fish Stock
Ingredients:
2.5 cups cold water
1/2 cup chopped onions
1/4 cup chopped carrots
1/2 cup chopped celery
6 white peppercorns
3-4 cloves
a Bouquet Garni (3-4 spris parsley, 1/2 bay leaf, 2 sprigs fresh thyme)
a twist of lemon rind
1/3 cup dry white wine or 2 tablespoons lemon juice
500-750 grams ( 1-1.5 lbs) washed lean fish bones, tails, skins, trimmings and heads with gills removed.
Heat all ingredients until liquid begins to simmer. Simmer uncovered for no longer than 15 minutes. Skim the surface to remove the foam and strain. Store quickly to avoid spoilage.
When I made this last week, I used a fork to remove the flesh from the spine and head of the fish. Since the fish and vegetables were cooked only a short time, they were much tastier than the chicken and vegetables left over from chicken stock. The next day I cooked it up into a simple soup with onions, potatoes, carrots, tomatoes and chopped parsley.
You may also enjoy:
Red Snapper with Lemon and Dill
Greek Salad with Feta Cheese and Olives