Wednesday is Recipe Day at Cooking Manager.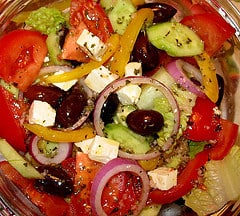 This guest post by Michelle is in honor of Shavuot (Pentecost), the Jewish holiday observed next week when it's traditional to serve dairy.
Greek salad, or horiatiki, is a rough country salad of juicy tomatoes, crisp cucumber, sliced red onion, pepper, crumbly feta cheese and plump kalamata olives. Serve this delightful combination as a side dish or as a light meal with some crusty bread.
3 tablespoons extra virgin olive oil
1½ tablespoons lemon juice
1 clove garlic—minced (crushed)
½ teaspoon dried oregano
¼ teaspoon sea salt
¼ teaspoon freshly ground black pepper
head of romaine chopped
3 tomatoes—cut into wedges
¼ red onion—sliced into rings
½ cucumber—sliced into thick half-moons
½ yellow pepper (capsicum)—julienned
4 oz (120g) feta cheese—cut into small cubes
16 kalamata olives
Place the olive oil, lemon juice, garlic, salt, pepper and oregano in a small jar with a screw-top lid and shake to combine.
Place the salad ingredients in a large bowl. POUR the dressing over the salad and toss gently to combine just before serving.
Garnish with a little freshly ground black pepper.
You may also enjoy:
Red Snapper with Lemon and Dill