Wednesday is recipe day at Cooking Manager.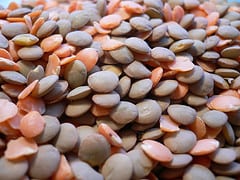 Another of my sister's recommendations.
Egyptian Rice and Lentils
From Mediterranean Light by Martha Rose Shulman
Serves 4
Ingredients:
6 ounces (1 cup) brown lentils, washed and picked over
3/4 teaspoon salt
1 tablespoons plus 1-1/2 teaspoon olive oil
1 large onion, 1/2 chopped and 1/2 thinly sliced
1 tablespoon crushed cumin seed
1/2 teaspoon ground cinnamon
1/2 cup long-grain (or brown ) rice
2 cups water
freshly ground pepper
1/2 cup plain low-fat yogurt for topping
Soak the lentils in water to cover for 1 hour. Drain place in a saucepan or casserole, cover with water by two inches, and bring to a boil. Add 1/2 teaspoon of the salt, reduce heat and cook for 30 minutes until just about tender.
In another casserole, heat 1 tablespoon on the olive oil and saute the chopped onion until it begins to color. Add the cumin seed and cinnamon, stir together, and add the rice. Stir to coat with oil and add 2 cups water and the lentils with their liquid, plus about 1/4 teaspoon salt and pepper to taste. Stir together, bring to a  boil, reduce heat, cover, and cook 20 to 25 minutes or until the liquid is absorbed.
Meanwhile, brown the sliced onion in the remaining 1-1/2 teaspoon of olive oil. When the rice and lentils are cooked, transfer to a platter and serve the browned onions over the top.
Serve with yogurt on the side and a big salad.
You may also enjoy:
Complete Guide to Cooking Dried Beans from Scratch