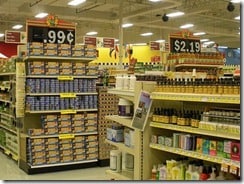 New reader Renee Wohl posted this on a local email list about saving money. A local chain was advertising 1+1 sales where you get two identical items for the price of one.
Although there ARE sometimes good deals that can save you money at these 1 +1 and other sales, I'd like to remind all you savvy consumers that these 'specials' need to be examined very carefully. In many cases, the savings are minimal or non-existent.

Chain Z is expert at making special packaging for these sales.
Thus, the full priced product might be sold at X amount and the sale product at X-2, but if you check how much you get in the package (something like 500 g for the non-sale item), and you check the contents on the 'special' package (400-450g) you'll often see that there is no savings involved.
Sometimes, buying 2 packages of half the amount at the regular price, is cheaper than one double package of the 'sale' item. This happened to me recently when I found that 2 packages of 50 tea candles cost less than the large package of 100 tea candles.
You need to know the pre- 'special' price of your product in order to see whether the 2 +1 free or 1 +1 free item is a good deal or not. Often the price for the 2 or the 1 has been hiked, which might
still give you a savings, but not as much as you think – especially on those 2 +1 free items.
Do you actually need 3 of the items? Chain Z certainly needs your
cash which is working for them instead of working for you, while you use up the 3 items.

So caveat emptor (buyer beware)! When I'm in doubt, I use my cell phone
calculator to figure out how much I'm paying per unit (this info is supposed to be on the shelf labels, but is seldom consistently or clearly displayed). Also, I never buy the 2 + 1 specials unless it's a product whose regular price I know and which I use up quickly. In fact, it's gotten to the point where I simply don't believe all the hype they send you and throw the 'specials' bulletins right into the trash with the coupons. After all, who
is paying for all the advertising campaigns and those slick fliers
(including mail & distribution costs, labor involved in changing price tags,
etc.).

-Renee
Thank you, Renee. Jonathan Bloom spoke about point number four as it relates to waste in his book American Wasteland. In England, the government encourages stores to offer "Buy One, Get One Later" along with a coupon. It would save the store money as a significant percentage wouldn't bother.
It's also important to keep in mind that some specials can be helpful. "Loss Leaders" are good deals meant to lure you into the store for your weekly shopping trip. Often, a chain with consistently better prices is the better deal. Or rotate among stores to stock up on bargains.
You may also enjoy:
Ten Questions to Ask Before Going to the Store