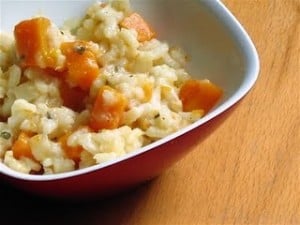 On Mondays I like to feature interviews with readers. I've decided to branch out and invite some well-known food bloggers to participate. Please welcome today's guest, Kris Svenson. Her recipes are mostly vegetarian, and based on natural ingredients, and she has a wonderful community. Her "Ask the Internet" feature gets dozens of replies.
Tell me about yourself, including your name, location, family, website (if applicable)
My name is Kris, and I'm a recently married ex-TV writer living in Brooklyn, New York. I run Cheap Healthy Good, a blog about feeding yourself inexpensively and well.
What do you remember about family meals and your mother's cooking style when you were growing up?
She was working and raising three ravenous children, so my mom was a pretty utilitarian cook, with a set rotation of simple dinners. Tuesday was pasta night, Friday was pizza night, and we ate a meat/starch/veg troika almost every other evening. We got by.
How is your cooking style different from your mother's? I try to cook from scratch a bit more, and rely less on pre-packaged ingredients. Also, I don't know if Ma ever enjoyed cooking. I think she found it an obligatory thing, while it's more like a hobby to me.
What is your favorite gadget?
Oooh . . . I recently came into possession of a stick blender, which is an absolute revelation. It's also a fabulous weapon for when the neighbors get too rowdy.
Do you entertain, and in what circumstances? What is the biggest party or meal you have hosted to date?
Heck yeah. We have a backyard, a rarity in the boroughs, and we end up hosting a few parties every year. Some are quiet Sunday dinners, while others are Saturday night blowouts. I think we had 100 people here one Memorial Day. We barbecued. Cleanup was … uh … extensive.
Can you share a typical daily menu? Sure thing! Here's our typical weekday fare:BREAKFAST: Fruit, oatmeal
LUNCH: Leftovers, salad, hummus, some kind of treat
DINNER: A from-scratch meal that usually takes about 30 minutes to cook.
SNACKS: Fruit, hummus, cheese, crackers, odds and ends
We drink obscene amounts of coffee and water, with beer and wine rounding out the beverage menu.
How has your cooking style evolved over the years? Ten years ago, I couldn't cook. At all. It would have been embarrassing if I had cared a whit. Five years ago, when I began to realize cooking's value, I could pull off a few basic meals without too much perspiration. Today, I'm a pretty decent chef, and will try just about anything. Except scallops and mayonnaise, which I consider the henchfood of the devil.
Can you recommend any cookbooks, TV shows or websites that have inspired you? COOKBOOKS:Cook's Illustrated: The Best 30-Minute Recipes (my all-time fave), Barefoot Contessa Cookbook, How to Cook Everything, Moosewood Restaurant Simple Suppers.
TV SHOWS: Good Eats, Barefoot Contessa, Lidia's Italy (Bastianich is the Italian grandma you've always wanted)
WEBSITES: Serious Eats, Words to Eat By, Casual Kitchen, Pioneer Woman Cooks, Everybody Likes Sandwiches, Hunter Angler Gardner Cook, Get Rich Slowly
What is the most unusual dish you've ever made?Kumquat Chutney! Kumquat Chutney! It looked like glittering jewels and tasted like curried heaven, but we could never figure out what to do with it all. The leftovers sat in the fridge for a few days before I finally cowboyed up and tossed it.
What is the oldest item in your kitchen? The newest? OLDEST: We have a citrus squeezer that looks like it once belonged to Abraham Lincoln. I think it might have been mentioned in the Old Testament. NEWEST: See: blender, stick.
What would you like to change about your cooking style in the coming year? I'd like to experiment with different flavor profiles, master more of the basics, and get better at cooking without recipes. Also, successfully rehydrating dried beans would be a coup d'etat. There's been so much fail on that front. [Kris, see my guide to cooking dried beans from scratch.]
13. Please share a favorite recipe and cooking tips.
RECIPE: My favorite recipe of the past year has been Butternut Squash Risotto. There are only a few ingredients and it's a fairly simple cooking process, but the results are just outstanding. I'd serve it to Oprah.
COOKING TIPS: Taste food as you're cooking. Read recipes all the way through at least twice before you make them. Save money by eating less meat, buying fresh/whole foods, and cutting soda out of your diet. Take a Knife Skills class. Clean as you go. It gives you an incredible amount of free time at the end of a meal.

Thanks again, Hannah! This was fun to fill out.
Thank you, Kris. You gave hope to all the newbie cooks out there. Readers, if you'd like to be interviewed, please write to me via the contact page.