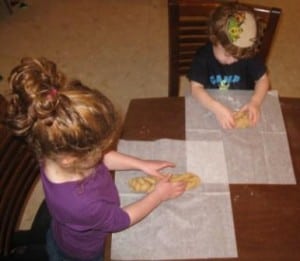 Please welcome reader Kate for today's interview and recipe.
Name, Family, Location, Website. Kate, One Tired Ema, Modi'in, Israel. Married with a daughter (5.5) and a son (3.5).
Describe family meals and your mother's cooking style. My mom cooked really great, homey food. Nothing terribly fancy or restaurant quality, but I don't remember complaining much. My stepfather was on a very low-sodium diet long before it was trendy, and my mom adapted to cooking without salt by using interesting spices and herbs. We ate a lot of fish. There was salad every evening. I learned to balance a plate of food with a protein and a starch and a vegetable and a salad; lots of colors. I had to set and clear the table.
My grandmother was famous in the family for making complicated things from scratch, like blintzes and cream cheese rugelach. They were delicious, but my mom never made those things. Ultimately, I think seeing fresh everyday food, well balanced meals, and healthy snacks in my house were far more important than the fancy repertoire.
How is your cooking style different from your mother's? I've kept kosher since I was in college, which is probably the biggest difference. (Years ago I loved the cioppino that she made!) But in terms of style, I think I'm pretty similar. I make fewer lettuce salads in favor of more straight-up vegetables, perhaps, because prepping salad is so time consuming compared to rough chopping some vegetables and throwing them into the oven to roast. In the winter I'm always cold, so I make more soup than my mom did. In the past five years or so, I've come to realize that salt definitely has its place as well, particularly after doing more baking—bread baking in particular.
When did you start to cook and how did you learn? I'm sure I began to help in the kitchen when I was small, peeling vegetables. I probably offered opinions on what to eat, because I'm like that. I first began to cook family meals when I was 11. When my mother was pregnant with my brother and on partial bedrest, she developed an extreme aversion to raw proteins, especially chicken. She would go upstairs to her bedroom and yell down instructions for prepping the chicken and putting the rest of the meal together. I didn't do anything complicated, but I definitely wound up with some basic skills from that time. I did a lot of fancy sandwiches in the toaster too, along the theme of a Reuben sandwich.
Do you entertain and in what circumstances? What is the largest event you have hosted? We entertain on Shabbat, usually two to three times a month. Other than the big housewarming we threw ourselves in December (50 people for snacks and desserts), we stick to smaller groups. We can fit 12 at our dining room table, fully extended, and I won't go over that. Sometimes we have a kids' table of four if the kids are all under six or seven and will just go off and play anyway, but I really like to have a maximum of two conversations going on at once. My ideal meal to host is six adults.
Sample weekly dinner menu:
(Adults)

Sunday: Shabbat leftovers
Monday: A vegetarian soup or stew, perhaps with a baguette
Tuesday: Pasta with some sort of vegetable topping, or rice with tofu and vegetables
Wednesday: Leftovers, sandwiches (grilled cheese or tuna), or takeout
Thursday: Omelets or homemade vegetable burrito wraps (rice, beans, corn, diced tomatoes, and cheese)
Friday (meat): A vegetarian soup; chicken (I rotate several varieties) or turkey meatloaf; a cold vegetable side dish (like a tomato salad or garlic-dill green beans); a warm vegetable side dish (like roasted or grilled vegetables); rice, pasta, or quinoa side dish. And dessert, of course.
Friday (dairy; usually when we do not have guests): Vegetarian or dairy soup, fish, pasta, salad.

How has your cooking style changed over the years? I've simplified and streamlined. I make more of an effort to use seasonal and local fruits and vegetables. In the United States, I loved to shop at summer farmers' markets and joined a CSA in the summer of 2008. When we had more free time as a couple, I made more complicated things (and my husband washed a lot of dishes–the importance of that cannot be emphasized enough!). Once I prepared Albondigas, a Mexican meatball soup, and made beef stock from scratch, starting with marrow bones. It was great soup, but now I cannot contemplate how I was able to do something that intense for only an appetizer!
What is your biggest cooking challenge? My biggest challenge is cooking for my kids. Thankfully they eat healthfully—they love fruit and will readily eat whole grain rice and pasta—but like only a small range of vegetables (my daughter will not eat anything with tomato of any kind anywhere near it) and veto certain types of preparation (they are not fans of grill marks). We are working on politely refusing and/or trying new foods once. It's boring for me. But I remember having my own food weirdness when I was young—no cheese, no salad ingredients—and now I like almost everything. More interesting food will be available to them—on Shabbat at a minimum—and they hopefully will grow into it, like I did.
My secondary challenge right now is doing more from scratch. In the United States there were a few convenience items, like boxed organic vegetable broth and jarred marinara sauce, that I used all the time. In Israel those things are very expensive, so I make my own. It's not difficult, but it requires more time and advanced planning, which isn't my strong suit.
What cookbooks have inspired you? I love the Moosewood cookbooks. I have four of them. I love the idea behind America's Test Kitchen cookbooks and Cooks Illustrated magazine, and I find them interesting reading, but as a kosher cook, I frequently can't follow the recipes they develop. (They've played with all the recipe variations already, and some kind of non-kosher element usually makes the dish.) Williams Sonoma and the Mayo Clinic have put out a couple of nice cookbooks as well; I have one and my mom has the other. I am a sucker for gorgeous food photography and for soup, so I treated myself to Deborah Madison's Vegetable Soups. I get a lot of use out of the Empire Kosher Chicken Cookbook. And I crib interesting things from the Internet all the time. The whole family, minus my daughter, loves Israeli Kitchen's recipe for majadra. Her tip for adding crushed garlic to the rice? Genius. I should have been doing that for the past 10 years.
10. What do you enjoy on Cooking Manager? Do you have suggestons for future posts? I like the recipe posts, and the tips for a more efficient kitchen, which I have trouble applying because I'm busy in the morning and my kids are around all afternoon. Although the kids love to help me make challah, and my little one likes to help me prep string beans, their help is mostly in the "hindrance" category.
Please share a favorite recipe.
Maple-Ginger Butternut Squash* Soup
(Note for Israeli readers: It's worth it to seek out butternut squash for this recipe. In my opinion, the enormous pumpkin-like winter squashes more readily available in Israel yield a thinner, less tasty result.)
1 T olive oil
1 onion, chopped
1 stalk celery, diced (optional)
2×1 inch piece of fresh ginger, peeled, diced or grated
2 medium butternut squash, peeled, seeded and cubed
5-6 cups vegetable stock
1/4 cup pure maple syrup
salt and freshly ground pepper to taste
Instructions
Heat oil in a soup pot, saute onion and celery on medium until soft, about five minutes. Add about 2/3 of the ginger and stir for a minute. Add squash cubes and stock to cover. Bring to a boil, then simmer on low until the squash cubes are soft. Puree with an immersion blender. Stir in maple syrup and reserved ginger; salt and pepper to taste.
Thanks, Kate, I enjoyed reading about your family and your cooking adventures.
Previous interview:
Borekas: Interview with Tikva Sasson
From Tuna Surprise to Persian Chicken: Interview with Ariela