Jerusalem artichokes actually originate in North America, although they grow well in any hot climate. They contain inulin, a dietary fiber that may help diabetics. Inulin can also cause gassiness.
"Jerusalem" is probably a corruption of girasole, which means "facing the sun." Sunchoke, the official name for the tuber, probably led to the artichoke misnomer. What we call a Jerusalem artichoke is actually the root of the sunchoke. Sunchoke and sunflower belong to the same family.
I saw a friend discussing how to peel Jerusalem artichokes, and got inspired to try some. Because they are small and knobby, ua peeler would remove too much flesh. Other suggestions including scraping, using a spoon, or leaving the peel on. If you do leave the peel, scrub carefully to get rid of sand.
Peel can be easily removed from roasted vegetables, but it was too hot to turn on the oven. So I tried a few methods for peeling. I found the spoon time-consuming and messy, and the same for a serrated knife. . Scraping with a straight-edged knife was fastest, but still messy. You could try with a lemon zester. The vegetable is so knobby and small that I lost patience after one or two. I used my vegetable brush to clean the rest.
My friend's Facebook group members suggested roasting, pureeing, roasting, or cooking with spices until soft. But my 9-year-old said, "You should cook it with olive oil and garlic." She just started weekly visits to an agricultural farm with her class. "That's what they always say to do with the vegetables I bring home," she explained.
Now I always consider frying foods to be cheating. Just about anything is good fresh out of the frying pan. But I decided to take my daughter's advice. I heated up some olive oil along with some coarsely chopped garlic. After a few minutes I added the sliced Jerusalem artichoke.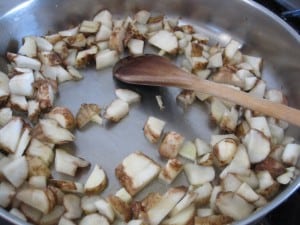 After a few minutes, I added a half cup of water, covered the pan and lowered the heat. Because the pieces weren't cut uniformly, some was still firm while others were soft. The soft ones tasted best. The thin peel did not detract from the delicious flavor, and my daughter agreed. But the gassiness is no joke. I will definitely eat a smaller quantity next time.
If you've cooked with Jerusalem artichoke, let me know your experience.
You may also enjoy:
Peeling, Nothing More than Peeling
Vered Lev's Open Kitchen (Hebrew)