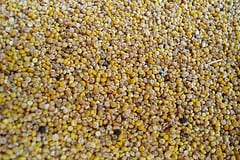 Wednesday is Recipe Day at Cooking Manager.

Thanks to reader Yosefa, who passed on this delicious recipe.
Quinoa Tabulah
By Amy Peterson

Ingredients:
1 cup quinoa
2 cups water
2 medium tomatoes chopped
6 green onions chopped
1 medium cucumber chopped
1 small green bell pepper chopped
1 cup chopped parsley
Instructions:
Rinse quinoa and cook in water according to instructions, until water is absorbed (about 15 minutes)
Whisk together:

1/3 cup lemon juice
1/3 cup olive oil
1 clove garlic (finely chopped)
1/8 teaspoon cayenne pepper

Mix all ingredients and refrigerate.
You may also enjoy:
Cool No-Cook Summer Salad: Tabbouleh
10 Kid-Friendly Foods for Using Up Leftovers