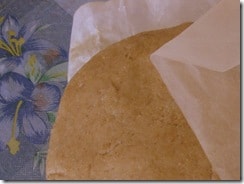 Wednesday's recipe, a day late.
Are you afraid to make your own pie crust? This recipe is easy to make in advance, to have on hand for a quick meal. Best of all, it contains no butter or margarine, unlike store-bought versions that may contain other unwelcome ingredients.
The recipe comes via Ilana, who left it as a comment in my post on creative pie crusts. I tried it the other day and was pleased with the texture and taste.
My adaptation of the recipe includes instructions for mixing by hand or with the food processor, along with microwave instructions.
Oil-Based Pie Crust
Makes two generous crusts.
Ingredients:
2 cups white flour, part whole-wheat is fine. I used 90%, which is whole wheat with 10% of the toughest fibers removed. It had a small amount of 100% whole wheat too.
1/2 cup oil. I used olive oil, but use something you like.
6 tablespoons ice water (I needed a bit more than half a cup).
Instructions:
Mix the oil and flour in the food processor. It's best if the flour is also chilled.
Add the ice water while the processor is running. The dough should form a ball once it is mixed. If not, add water one tablespoon at a time and mix again until the dough forms a ball.
Let the food processor run for another 30 seconds. Take out the dough and knead briefly with your hands, for about a minute.
To make by hand, mix the oil and flour, then mix in the water until you have a cohesive dough.
Form the dough into two hamburger-shaped patties and refrigerate for at least an hour. May be kept a few days in the refrigerator, or frozen.I used a piece of parchment paper to keep them from sticking together, then placed them in a plastic container.
Roll out the dough into the size of your pan, or press it into the pan with your fingers.
Pierce the dough all around with a fork.
Bake in the microwave for two to three minutes, until dry. Or you can bake in a conventional oven for 15 minutes for recipes that need to be baked further, such as quiche. To bake completely, bake for 20 minutes or until brown. Then you can add a cooked filling like fruit.
If you're still intimidated by crusts, try Universal Crustless Quiche.
If you enjoyed this post you may also like:
Don't Stir the Pot: Use Your Microwave Instead
How to Make Patties from Anything and Everything