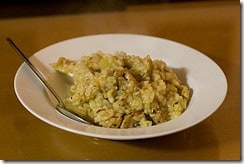 On the Cooking Manager Facebook page (have you "liked" it yet?) I asked readers to share ideas for leftover chicken in response to Aviva Hadas'  comment on 13 Smart Ways to Manage Your Leftovers.
Leftover chicken, especially white meat (the kind that is usually left behind in my house), requires special care. Because white meat has less fat than dark, it dries out quickly and loses flavor. The trick is to replace the moisture along with a little bit of fat. Add the chicken at the end if you can, so it will get hot but not cook any more than necessary.
Here are some ideas shared by readers, and I'll add another of my own.
Fajitas and chicken salad–(Frayda)
Chicken pasta primavera, chicken risotto, empanadas (turnovers), stir-fry, chicken pot pie (Viviana)
I make a skillet dish. Saute onions, then add garlic, oregano, 2 cans diced tomatoes, 2 cans low sodium chicken broth and leftover chicken – once you have simmering, I break up uncooked spaghetti noodles into thirds and cover – cook until noodles done – stirring occasionally. Serve with garlic bread. (Barbara)
You could also make shepherd's pie, which is a layer of finely chopped sauteed vegetables mixed with chicken, and topped by a layer of mashed potatoes. Bake in the oven as a casserole.
Add some of the drippings from the chicken to add flavor to the meat (here's how to save and store the leftover drippings).
I had a crowd over the weekend and have some chicken breasts left over. I roasted the chickens whole, and they are tenderer than when I roast them in pieces. I plan to cut up the leftovers for chicken salad, and cook the carcasses in the crock-pot with vegetables.
More posts on leftover chicken:
Adventures in Holiday Leftovers
Three Reasons We Throw Away Food
Please share more ideas in the comments. And Viviana and Frayda, I am sure that readers would enjoy more detailed recipes. I'll eventually post the shepherd's pie recipe.