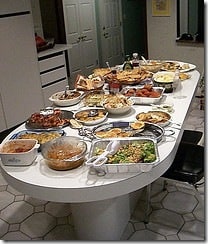 Every home cook has to deal with leftovers.  In a small household, fewer people are around to eat them, and one person's change in schedule throws everything off. In a larger household, bigger quantities are the challenge.
As always, advance planning is the key to saving time and money. Over the years I've used these techniques to get a handle on  leftover food.
Change your attitude. If the idea of leftovers depresses you, call it cooking in advance. Cooked food in the fridge is a blessing, not a trial.
Plan menus with leftovers in mind. Salads can't be frozen, nor can mashed potatoes. You have more leftover options with meal components than with a complete dish, but there's nothing wrong with serving the same thing twice in a row. Start thinking about how you can adjust recipes to incorporate leftover foods you have on hand.
Pay attention to quantities. It's easy to overcook, especially when you have company.
Be flexible. Having a set menu and shopping list makes it hard to use up leftovers. A flexible plan with daily adjustments works best.
Store leftovers in small portions. Smaller amounts won't overwhelm another dish.
Or use larger portions as the basis for your next meal. Use it in something else, or serve as is. If it's not enough for a complete meal, complement with a rich soup or side dish, or frozen leftovers from an earlier meal.
Keep leftovers in the refrigerator, if you can use them in the next few days. You'll see it and it will be accessible without defrosting.
Keep a container in the freezer for scraps of meat, broth, and vegetables. When you have a good amount, you can use it as a base for soup. When adding more than a small amount to a container, refrigerate first so the frozen items won't get defrosted.
Set a spot in your refrigerator for foods you need to use up quickly. A turntable works well. Train yourself to inspect the refrigerator when planning a menu or shopping list.
Prepare leftovers for the next meal right away. For example, discard skin and bones from chicken you'll be adding to a soup.
Seal food tightly and cool quickly. Reboil soups and sauces if they have been out for a while. Follow these guidelines for storing foods and helping them last longer.
Keep a variety of containers handy. You can reuse food containers with covers, like from cottage cheese, coffee, or jam. Zippered bags work well, and can be washed and reused.
Learn to cook with recipes that incorporate leftovers. I'll give ideas in a future post.
What techniques do you use to avoid throwing away leftovers?