Wednesday is Recipe Day at CookingManager.Com.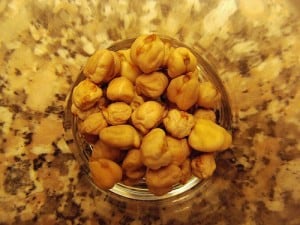 Today's recipe is vegetarian, gluten-free, easy and delicious. The morning after I made this, my six-year-old asked if she could have some of the leftovers.
Serves 4-6
Ingredients:
2 tablespoons oil
1.5 onions, chopped
4 cloves garlic, chopped or minced
1.5 cups brown or white rice
3 fresh, ripe tomatoes, cubed (substitute canned if you like)
1 can drained chickpeas, or 1.5 cups cooked chickpeas
1 tablespoon Tamari or soy sauce (for gluten-free)
3 cups vegetable broth or water
Instructions:
Heat oil and saute onions in a large saucepan for about 5 minutes.
You can saute the garlic with the onion, or add it after the rice.
Add rice and continue to brown, another 5 minutes.
Stir in the rest of the ingredients.
Bring to a boil, stir, and cover.
Lower the heat and cook for 18 minutes for white rice, 30 for brown.
Photo credit: fnogues