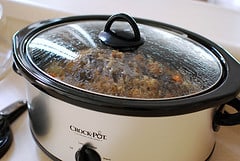 Slow cookers, first marketed under the brand name crock-pot, are often recommended for busy cooks. You put in the food, turn it on low, and seven or eight hours later you have a delicious meal. Frugal cooks prefer slow cookers too. But are slow cookers truly energy efficient, as is often claimed?
Apparently, we've been misled—even compared to the oven, which is considered an inefficient cooking method. The entire oven has to be heated even for a small item, and little of the heat gets to the food. But the oven does work efficiently by cycling on and off according to the internal temperature via a thermostat. I haven't tested mine, but online I've seen 12-15 minutes of use during a full hour. So while the heating elements use 1000-2000 watts an hour, most of the time they will be off and your usage is only about a quarter of that. A lot depends on your oven, its size, and how often you open it.
Slow cookers, also known by the brand name Crock Pot, don't usually have a thermostat. It uses a small amount of wattage, but continuously. Doug Cotes over at The Dollar Stretcher calculated that to run his oven for an hour requires 600 watts. He writes:
Our slow-cooker is a large 5-quart brand with a low cooking power of 180 watts and a high cooking power of 250 watts. It's information you find on the label. . . . the slow-cooker cooks continuously. What that means is if you cook on high with a 250 watt hour element for 4 hours, you use (4 X 250) 1000 watt hours of electricity. If you cook on low with a 180 watt hour element for 8 hours, you use (8 X 180) 1440 watt hours of electricity. No energy savings at my house. If you have a small slow-cooker with a low range that uses a 70-watt element, cooking for 8 hours only uses 560-watt hours of electricity.
Some newer models of slow cookers do have thermostats to regulate the temperature during cooking, in which case the above would probably not apply.
Of course, there are other factors that go into cooking decisions. If you are making a casserole in the oven you can bake bread or roast vegetables at the same time. If you want s hot meal as soon as you get back from work, nothing beats the slow cooker. It's especially good if you come home at a different time each day. My husband once left a chicken in the slow cooker for three days, and it came out just fine.
Here is a different calculation with the slow cooker coming out way ahead, from the blog Organizing the Four of Us:
The verdict: 3.2 amps used in the slow cooker versus 9.665 amps drawn from the oven OR if you want to compare the figures to your electricity bill the slow cooker used .768 kWs in 8 hours and our oven used 2.320 kWs in the time taken to cook those dear potatoes

Our slow cooker draws .4 amps on the low setting (I use this setting for most of our slow cooked meals). 

.4 amps by 8 hours is a total of 3.2 amps (.768 kWs) used for the duration of our cooking time.
Thanks to reader Gail for bringing it to my attention.
I have noticed that having on the slow cooker increases the temperature of my kitchen, so I don't like to use it in the summer. If you have a small cooker, be sure to compare costs.
Comparison of advantages of slow cookers vs. conventional ovens:
Advantages of slow cooker
Flexibility in the length of cooking time.
Can be prepared well in advance and forgotten.
Portable: can be removed from the kitchen in hot weather or brought to a hospital or hotel room (if permitted).
Easy way to use up leftovers.
No need for pre-cooking, although you may want to soak beans or sauté onions.
Great variety of recipes for one-pot meals.
Can be used creatively for hot cereals, puddings, cakes and more.
Advantages of oven:
More room to prepare several items and types of food.
Cooks much faster.
May use less energy because of quick cooking times, and the thermostat cycles the heating element off and on (see above).
If you are looking for more efficient cooking methods, try a pressure cooker or microwave.
Related:
Getting the Most Out of Your Conventional Oven
Don't Stir the Pot: Make It in the Microwave Instead
Six Low-Tech Kitchen Tools to Save You Time and Money