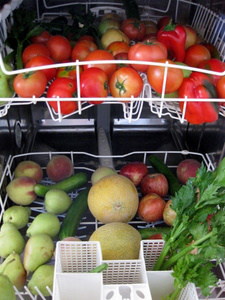 Washing vegetables under the faucet uses up a lot of water, even if you are efficient (keeping the faucet off when needed, and rinsing large amounts all at once). Long ago I considered washing produce in the dishwasher, but I didn't actually try it until reading about it in unplgged.
You can see from the picture how I distributed the vegetable in the upper and lower racks, in a single layer. I had to arrange them so that nothing would fall through, or hang below the rack and interfere with the spinning jets. As you can see, I used the flatware holders for some of the shorter celery racks.
Important: Use only the cold, rinse cycle with no detergent. I didn't put any potatoes in this load, but I will next time. You'll get the most efficiency by using all of the available space.
Results: Clean, although there was still some loose debris on some of the vegetables, so I will need to check each one. I blame this on the vagaries of my dishwasher, not the method. There's a definite savings on water. As for time, It took several minutes to arrange the vegetables, but not as long as scrubbing each one.
Update: This should be obvious, but avoid washing sandy produce in the dishwasher as dirt can get stuck in the wheels.
Here's a better view of the top rack: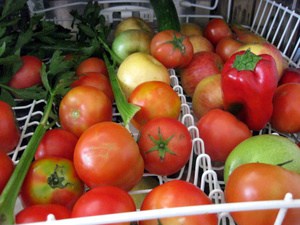 Would you try this method? Why or why not?
Related:
Ten Ways to Save Money When Using Your Dishwasher
Save Time and Money by Washing Fewer Dishes