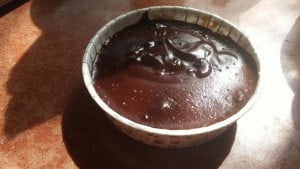 I've been stressing about Passover cooking. My 18-year-old son became vegan a few months ago, and I'm afraid my usual menu plan might leave him hungry. Because of the prohibitions against seeds and legumes (kitniyot) in the Eastern European (Ashkenazi) Jewish Passover tradition, vegan staples like lentils, beans and sesame are off the table.
Fortunately, my friend Rena Reich came to the rescue with the publication of her new cookbook, Vegan Start Passover Cookbook. You can read my interview with Rena from a few years ago.
The recipes in this vegan cookbook do not contain animal products such as eggs, dairy, fish, or meat. They also contain no seeds or legumes. Although many Ashkenazim today do eat quinoa, Rena decided to leave that out too. So these recipes will be acceptable to most Passover-observant guests you are likely to host.
Several of Rena's recipes answered questions I have been asking myself. How can you make vegan matza balls (kneidlech) that won't fall apart? What about kugels (vegetable pudding), mayonnaise, and matza brei (French toast made with matza)? Rena provides solutions, without eggs, for all of these.
Vegan Start Passover Cookbook includes a vegan Seder menu, with ideas for vegan substitutes for the egg and bone on the Seder plate. I found the recipes for soups, sides and salads to be similar to those throughout the year, since most vegetables are kosher for Passover. She bases the main course recipes on mushrooms, and potatoes, and other vegetables, like Mushroom Burgers, Gnocchi and Ratatouille. I suggest adding herbs to spice up some of the savory recipes.
Passover desserts create a special challenge for vegans, but Vegan Start Passover Cookbook does not disappoint! Choices include Apple Cake, Almond Chocolate Mousse, Chocolate Torte, and Chocolate Truffles. The chocolate mousse contains a surprise ingredient.
Two specialty recipes that I definitely plan to try, or have my son try, are almond milk and mayonnaise. These high-priced items are expensive when ready-made, and often full of additives. Rena's mayonnaise is based on oil and almond milk (or another vegan milk).
Rena has offered to give away 3 copies of the book to readers. Here are three ways to enter:
For one entry: Leave a comment on this post.
Earn two entries: Share this post publicly on your personal Facebook profile, and leave a comment below with your profile name.
Earn two entries: Share this post on Twitter and leave a comment below with your user name.
Giveaway ends Sunday, March 22 Wednesday, March 25, and winners will be chosen at random.
Update: Congratulations to the winners, Rachel, Aviva and Yocheved! Thank you to all who entered. 
You can order Vegan Start Passover Cookbook for your Kindle via Amazon, or as a PDF directly from the website.
Want more recipes for both vegans and carnivores? Check out Passover Recipes and Cooking Techniques.