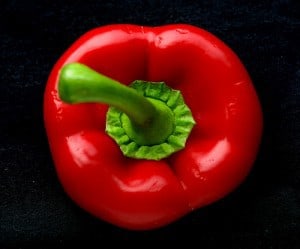 Nothing says summer like red peppers. My group vegetable order featured red peppers a few weeks ago, so I remembered this relish recipe in The Well-Filled Microwave. The microwave cooks the peppers up quickly, with no need to stand over the stove.  In the microwave, the peppers retain their shape and flavor. My study group tasted and approved.
Cookbook authors Victoria Wise and Susanna Hoffman recommend this in a pita with sweet-potato fries (also cooked in the microwave). You can serve it on rice or bread, add it to a salad or just eat it plain.
Recipe: Wilted Red Peppers with Garlic
Summary: Red peppers cooked up in the microwave with garlic, olive oil and herbs.
Ingredients
3-5 red peppers, seeded and sliced into about 20 pieces each
8 cloves garlic, peeled and cut into slivers
1/4 cup olive oil
1/2 teaspoon salt
1/2 teaspoon black pepper
2 teaspoons fresh oregano (I used thyme)
Instructions
Place all ingredients in microwave-safe bowl.
Cook on HIGH, uncovered, for 10 minutes, stirring once in the middle of the cooking. The peppers should be firm but tender. It took 15 minutes in my microwave.
Variations
If you don't have a microwave, saute the vegetables in a pan, but reserve some oil and add at the end.
Preparation time: 5 minute(s)
Cooking time: 10-15 minutes
Diet type: Vegetarian
Dietary restriction: Kosher
Number of servings (yield): 6