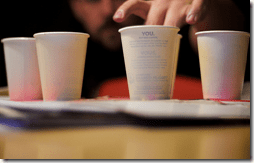 Around the time we were married, my husband heard a talk about paper plates leading to a "disposable society." This made an impression. I think the speaker meant that owning objects that we value enough to care for on a daily basis, is part of building a home and family. I see his point, although I don't believe we should read every personal decision into some kind of moral failing.
Washing dishes takes time. The more people you are serving, and the more courses you cook, the more the dishes accumulate. Sometimes the temptation to use disposable dishes—paper is often a misnomer since plastic predominates—is strong. I have one friend who says that it's a matter of quality of life. When she has her children and grandchildren visiting, she wants to spend her time with them and not in the kitchen washing dishes.
On the other hand, once you get used to having them in the house disposables can be a hard habit to break. Nowadays we use a dishwasher that cuts some, but not all, of the time spent washing.
After a few days of using disposables during the mourning period for my father's death, my husband asked to go back to china. When we used disposable plates during those few days, there are a few things I found irritating about them.
The extra garbage. We had to take out garbage at least one extra time each day.
The taste. Disposable plates and cups do change the flavor of the food. They have a distinctive, chemical smell as well. And that's without going into the chemicals that you ingest.
The flimsiness. Disposable cups spill, plates break or tip, forks crack. I found myself throwing things away before they were used even once.
The price. Disposables cost. If you buy the cheap ones, they are ugly and flimsy. If you invest in better quality, you are pouring more money down the drain. Sometimes disposables are so pretty that you feel like washing them, which extends their life. I was with a friend who was buying fancy disposables for the holiday. I pointed out (it was a good friend

) that a basic service for 6 would cost less than she paid for the disposables.
The waste. It just feels wrong to drink some water from a cup and then throw the cup into the garbage.
The storage. If you have china, you place them on your shelves. If you have disposables as well, you need a place for them and I found that they take up a lot of room. You also have to stay on top of things to make sure you don't run out of any particular item, and you may need an extra trip to the store. If you care that your disposables match perfectly, you end up wasting more.
The environment. Plastic comes from petroleum, paper from trees. Disposable goods must be manufactured, transported and disposed off, all of which creates pollution.
While washing dishes requires soap and water, there are efficient methods. Here are tips for cutting back on the number of dishes you need to wash. You can also choose disposables for the main course but not for dessert, or vice versa.
Like most cooking tasks, it's a matter of commitment. My husband is determined that we don't use disposables, and offered to do most of the washing up even in those pre-dishwasher days.
Don't forget to check out the latest edition of the Kosher Cooking Carnival over at Leora's.
You may also enjoy:
Wash Your Produce in the Dishwasher
Ten Tips for Saving Money with Your Dishwasher