Fresh chard is coming into season and the markets are full of this bright green delicacy.
Chard can be used in any recipe calling for spinach. The only difference is that the white stalks take longer to cook than the green, leafy parts.
I sauteed these, based on a recipe by Anna Wintour in The New Vegetarian Epicure.
Sauteed Chard
Serves 8-10.
Ingredients:
About 2 lb. or 1 kg. of chard or other greens
2 cloves garlic, chopped
2 tablespoons olive oil
salt to taste
dash of vinegar or lemon juice
black pepper to taste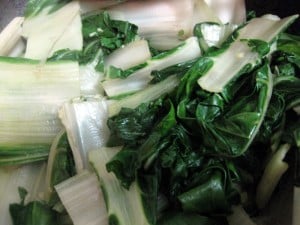 Instructions:
Wash greens thoroughly and discard any that are yellow or wilted, and tough stems. Cut into small pieces (I cut each leaf into about 8 pieces).
Heat oil in your largest non-stick pan and add garlic, stirring for about a minute, then add as much chard as the pan will hold. Start with the stalks as they need to cook longest. Turn leaves and stalks gently as they wilt. Continue to add greens and turn until you have used them all.
Continue to cook until there is no liquid in the pan. If they are not yet soft, add a little water. I left the stalks slightly crunchy.
Toss with vinegar and pepper before serving.
Serve as a side dish or on top of rice or pasta.
Note: Chard is mangold in Hebrew.
You may also enjoy:
Passover Recipes and Cooking Techniques