Wednesday is recipe day at CookingManager.Com. Click for details on submitting a recipe.
Today Mimi of Israeli Kitchen shares a recipe for Chickpeas Stewed in Tomato Sauce. Be sure to check out her beautiful blog, with a diverse collection of tasty recipes.
Chickpeas In Summer Are Cool
Is it too soon too call this weather "dog days?" Because the minute I go outside, my tongue is hanging out. When I return home and close the door to the hot sidewalks and All That out there, I don't really want to bend over the hot stove too long. I just want to whip a quick meal up and sit down to eat.
Consider the versatile chickpea. If I've cooked about 2 cups ahead of time or have a can of them in the pantry, I can get a satisfying yet light meal on the table in about half an hour.
Start with those two cups of chickpeas. If you're using dried grains, soak them overnight and drain them before cooking. How long they take to become tender depends very much on the age of the grain. An hour ought to do it, but add salt only at the end of the cook.
Here in Israel we can buy them frozen, which is convenient because they cook up quickly and taste fine. Just boil up about 4 cups of salted water, add the grains, cover the pot, and cook about 15 minutes. In the meantime, you can get your salad ready and make rice.
And there are always canned chickpeas. If using those, drain and rinse them to wash the canned taste out.
Chickpeas Stewed in Tomato Sauce
Ingredients:
2 cups of cooked chickpeas
1 medium onion
2 Tblsp. olive oil
2 garlic cloves
1 cup of crushed tomatoes. Or grate a couple of fresh ones; or peel and blend them.
1 bay leaf
1 tsp. salt
freshly-ground black pepper to taste
1/4 tsp. curry powder
1/2 cup water
optional: a splash of white wine
Method:
Chop the onion and saute it in the olive oil till its golden.
Mince the garlic. Add it to the pan, together with the crushed tomatoes and the bay leaf. Stir.
Add the cooked chickpeas; stir some more.
Add the water and season the stew with salt, pepper, and the curry powder. You may need more water to maintain a thick sauce around the chickpeas.
Cover the stew and let it cook over medium heat for 15 minutes. Don't let it dry out.
If you have the optional splash of white wine, splash it on in.
Voila, your protein-packed chickpea stew is ready. It fits into many different menus. Serve it hot with rice and long, cool, salad for a vegetarian meal. Or warm/room temperature as part of an appetizer tray. These chickpeas are also very good cold and tossed into a main-dish salad. They make an attractive side dish to accompany chicken or meat too.
There you go: satisfying and tasty, low in fat, a little different, and inexpensive to boot. Pretty good for a hot summer's day.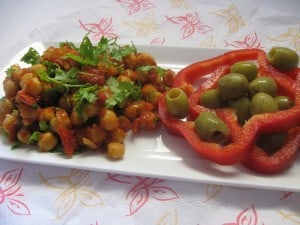 Mimi, I thank you for sharing that delicious-looking recipe. See more at her blog, Israeli Kitchen.
Related posts on CookingManager.Com: