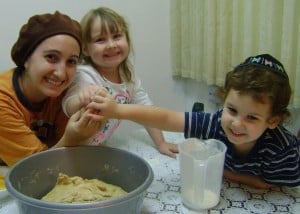 Please welcome Yosefa Huber for today's reader interview. Yosefa lives near me, and we are having fun cooking and video-taping together.

Please tell us about yourself. I grew up in South Florida and moved to Petach Tikvah, Israel almost a year ago.  I have a 5.5 year old daughter, almost 4 year old son, and 1 year old baby girl. I recently started blogging about my own cooking experiences on nonrecipe.blogspot.com.
What do you remember about family meals and your mother's cooking style when you were growing up?
My mom made a real effort for our schedules to include sitting down to dinner together every evening.  I remember eating a lot of pasta and green salad.  My mother is very health conscious and when I was in high school she made efforts to get us eating less pasta.  We grilled most days and ate a lot of grilled fish and veggies.  I think she taught me to safely use the grill before I was twelve.
My father's family is from Argentina, so I remember sipping maté and eating asado – Argentine style barbeque – which is more of an eating event than a meal.  There is a strong Italian influence in Argentina, and I think some of that flavor was passed on to me.  I would never call all pasta "spaghetti" or "noodles."  I loved gnocchi, cavatelli, tortellini . . .  My mother occasionally tried to make traditional European Jewish dishes.  I remember her making chulent (long-cooking stew), and I thought, "Your Bubbe (grandmother) made this and everyone liked it?"  My mother doesn't eat red meat, so she couldn't try it (lucky her).  I think the best dishes were things she just figured out, like a pesto with a creamy roasted garlic base, or properly cooked and seasoned vegetables.  My father also did a lot of the cooking when he wasn't working.  At one time he owned a restaurant and picked up a lot of skills there.  He still makes wonderful soups, sauces, and stir fries.
How is your cooking style different from your mother's?
I think my style is more messy and complicated than my mother's.  Even though I don't use recipes, I'm always trying to come up with new methods, combinations, and sauces.  My mother eats very healthy.  She's satisfied with more simple and raw foods.  We still influence each other's cooking.  I think it was for her sake that I started my blog.  (I needed to find an audience who was interested in my cooking stories, and stop boring her!)  I think I have learned from both my parents.  I am satisfied with simple things my mother would enjoy, but also ambitious in learning new skills and building complex flavors like my father.
What is your favorite gadget?
That's a tough one. I'm pretty into my melon-baller.  It's such a multi-tasker, and easier to wash than any of the runners up.  When the weather cools I get pretty chummy with my hand blender for blending soups and sauces.
Do you entertain, and in what circumstances? What is the biggest party or meal you have hosted to date? I haven't done much entertaining since I moved to Israel and left most of my cookware behind, but I do enjoy it.  I had over a dozen people in our tiny apartment for a couple of holiday meals when I was VERY pregnant with my son.  The biggest crowds involved cooking with Chabad Houses on Campus in Pittsburgh and the University of Illinois.  In Pittsburgh we would cook all Thursday night and then over 100 students might pour in on Friday night.  It still amazes me that a meal for so many students would include soup, green salad, gefilte fish, dips, chicken, desserts, and more.  One year I was visiting my then boyfriend (now husband, Aaron) at the University of Illinois and I was staying at the Chabad House in Champaign/Urbana.  For the last days of Passover the Chabad House "parents," Dovid and Goldie, had to go to Chicago; but, they allowed me to stay and cook for Aaron and a few of his friends, if I wanted.  I somehow got myself making two days of holiday meals for quite a crowd, all by myself, since the other students were still in class.  That was my first experience cooking for Passover and I don't know what I would do now without the experience learning from Goldie and then being dropped in the deep end.
Can you share a typical daily menu? Weekly menu? Wow, are you asking me to admit what we eat between blog posts?  I don't think there is anything typical about what I cook, but I don't do all the cooking. In the morning my son wakes one of us up insisting he wants breakfast while he is still half asleep.  Then we are pretty much at his mercy, unless we want him to wake up everyone else.  Usually my husband makes him a sandwich or oatmeal while I sleep.  I try to have fruits and veggies ready for the kids when they get home.  Sometime in the afternoon or evening we usually have one real meal that involves a full range of nutrients.  We might have a big green salad with fruit and protein, potatoes, beans or lentils, stir fry, or fish.  We only eat meat 3-4 times a month.  A weekly menu would be several of the things I mentioned above.  But if I'm not home my husband is likely to make pasta, frozen chicken patties (schnitzel), or pick up pizza.  He often makes an "Israeli salad" (tomatoes and cucumbers) and he sometimes surprises me with something really healthy.  On Friday we both cook for Shabbat. We prepare hard-boiled eggs and wash and spin lettuce. I make chicken, fish, soup, or something else that is special.  (Not all of the above.)  We often make pasta for the kids, noodle kugel, or pasta salad for Saturday lunch.  I like to make potato salad with lots of ingredients.  In general I like making dishes that have many food groups in one bowl.  We love to eat our leftovers, so I like to cook sufficiently when I do cook.
How has your cooking style evolved over the years? I think I've become a lot more confident in my experimentation.  When I lived with my parents I mostly grilled fish and veggies that I had marinated with something I thought everyone would like, nothing too weird.  In college my specialty was my gourmet version of macaroni and cheese with green olives and at least three cheeses.  But how can anything that fattening taste bad?  Now I try to make things that taste good and are good for you.
Can you recommend any cookbooks, TV shows or websites that have inspired you? I brought two cookbooks from the states, the year round Spice and Spirit and the one for Passover.  It has a great index and it talks a lot about techniques and Jewish law.  I love the Passover cookbook because it tells you how to make things from scratch that you wouldn't normally bother with.  The stringencies of Passover really spark my creativity.  I also enjoy listening to The Splendid Table and watching Good Eats on YouTube.
What posts on CM have you enjoyed? Do you have suggestions for future posts? I remember enjoying your interview with Kris of Cheap, Healthy, Good.  Other posts I like when I need them.  If I want to know how to use something, I search your blog.  Then I usually get lost surfing and learning more than I set out to know.
What is the most unusual thing you've ever made? My parents love to bring up the time I made them American cheese and Tootsie Rolls on saltine crackers.  I've made some much uglier, but tastier things since, including sweet potatoes with lentils, homemade Pad Thai, taco pasta, and sushi salad.  Big messes with a lot of flavor.
What is the oldest item in your kitchen? The newest? As I mentioned, I couldn't bring much to Israel.  I think the oldest item I own in my kitchen is a glass bowl with a blue leaf shape I got at my engagement party. I thought it was so beautiful and irreplaceable, I couldn't leave it behind.  The newest items in my kitchen are my silicon bake ware and a spray bottle I filled with vinegar to use for cleaning.
What would you like to change about your cooking style in the coming year? The main thing I want to change is keeping my kitchen cleaner, cleaning as I work, and using fewer tools.  (Things to make my husband happy.)  I want to do more short term and long term planning so things finish cooking when I need them and nothing goes to waste.  I also want to work on polishing some of my favorite's dishes so they are guest-worthy. Finally, I want to raise my consciousness about waste.  I hope Hannah will help me with that.
Please share a favorite recipe and cooking tips. I don't use a lot of real "recipes" but I recently made zucchini muffins I thought were quite scrumptious, and I actually wrote down my newly engineered "recipe".  As far as cooking tips, I'm learning so much from Hannah about not wasting.  Like using fish bones, potato skins, and onion peels to make fish stock, and really thinking about the little bits left in the bowl or on the stalk.  I also love the trick of soaking wilted lettuce in water with vinegar to revive it.  And as I mentioned, I use my melon-baller for many things.
Thank you for the kind words, Yosefa. I hope I'm up to the task.
You may also enjoy:
Brightening a Bleak Culinary Landscape: Interview with Robin
Interview: Yemini Lachuh Bread with Penny
Do You Admit to Guests that the Food Isn't Great?