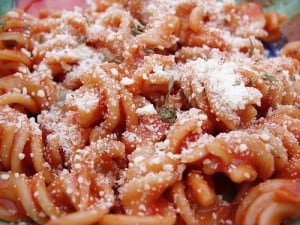 When Scott signed up for an email subscription to Cooking Manager, he mentioned that he was looking for tips on cooking for his diabetic wife. I wrote to ask him what he usually cooked, and he replied:
"Pasta dishes, sandwiches, sandwiches, meat and potatoes, ice cream, cookies, everything that I should not because I loved Italian food. Does that answer your question, Hannah?"
It sure does, Scott!
The phrase, "I should not," is telling. Even though his wife is the one with the diagnosis, Scott realizes that unless he changes his habits he is heading in the same direction.
According to the American Diabetes Association, 1.9 million new cases of diabetes were diagnosed in people aged 20 years and older in 2010. 8.3 % of the U.S. population has diabetes, whether or not it has been diagnosed. About three times that number have pre-diabetes, meaning that they are at increased risk of contracting the disease.
Too often, people think that they don't need to worry about their diets as long as their "numbers"  like blood glucose level, weight, cholesterol and so on are within normal range. But diabetes is clearly connected to poor eating habits. Why wait until you have no choice but to eat like a diabetic? Start altering your diet now, before you get to the point of no return.
I don't envy Scott. Changing your eating habits from top to bottom is not an easy thing to do.
Here are ten tips for Scott and his wife:
Get some help. Maybe you can find a support group for family members of diabetics, or weight loss. There are on-line forums too.
Focus on what you can enjoy instead of what you are missing. Since you like Italian cooking, you can still eat spicy tomato sauce as long as it doesn't contain too much sugar or fat. Use it for topping brown rice or whole-wheat pasta.
Scour cookbooks and websites to find the types of recipes that work for you. Many delicious foods fit into a diabetic diet.
Focus on eating less. Most Type II diabetics need to lose weight. You and your wife can still enjoy the foods you always have, just not as frequently and not in the amounts you were used to.
Switch to whole grains. You still won't be able to eat as much as you like, but more than the processed alternatives or potatoes. Experiment with grains you may have eschewed like oats, barley and quinoa.
Add vegetables, beans and legumes to your menus. There are many tasty ways to enjoy these healthy foods in soups, sauces and casseroles.
Invest in a slow cooker or pressure cooker. Cooking meals in one pot can save you time and money. These are both great tools for making healthy meals in less time.
Plan your menus and shopping lists in advance. When you are relying on home-cooked food, you need more advanced planning. And changing from one style of cooking to another requires extra practice time too.
Divide up the cooking into smaller steps, like soaking beans or chopping vegetables in advance. Don't forget to use pre-leftovers and rotating food.
Give yourselves time. There is a Hebrew expression, "All beginnings are difficult." After a while, you will get used to a new way of cooking and eating.
I wish Scott and his wife a long life of good health and enjoyable meals.
Readers, have you ever switched to a completely different cooking style in a short amount of time? What was most helpful to you? Please share in the comments. 
You may also enjoy: