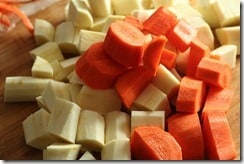 Thanks to reader Rivki Locker for contributing today's recipe.
Rivki writes:
I pride myself on my healthy eating habits. I eat loads of fresh seasonal produce, and build almost every meal around vegetables. I'm a good role model for my kids, setting an example of balanced and nutritious eating. I serve a wide range of vegetables and prepare them so many different ways. My kids see me and husband eating healthy at almost every meal.
As luck would have it, I have a houseful of picky eaters. Between the four of them, my children eat only four vegetables: tomatoes, cucumbers, string beans, and baby carrots. (I refuse to count potatoes, olives or pickles as vegetables.) They will not eat mushrooms, spinach, cauliflower or broccoli. They balk at peppers no matter what color. Eggplant is completely off limits, and I won't even tell you what happened when I tried convincing my son to try Swiss Chard. Suffice it to say that we had quite a cleanup afterwards.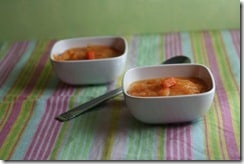 But I've discovered that they will eat a really wide range of vegetables if I cook them up in soup! Now that winter is upon us, I make an effort to make one or two pots of soup over the weekend. If I make a double recipe, each pot lasts two or three nights, and most soups taste better when rewarmed. Here's one of my recent favorites. It's simple and a real hit with kids and adults alike. The kids love it because it's so sweet, and, the best part is, the sweetness is 100% natural! A mother's dream!
Creamy Parsnip Soup (serves 4)
I've included instructions for making stock, which serves as the base of the soup. If you already have vegetable or chicken stock at hand, this recipe's really a snap.
STOCK (unless you have vegetable or chicken stock on hand):
2 or 3 carrots, peeled or scrubbed
a few stalks of celery
1 sweet potato, peeled or scrubbed
3 bay leaves
1 teaspoon salt
black pepper to taste
SOUP
1 tablespoon canola or vegetable oil
1 yellow onion, coarsely chopped (reserve the peel for the stock)
2 cloves garlic, minced
3-4 large parsnips, peeled and cubed
1 large carrot, peeled and cubed
1 stalk celery, coarsely chopped
Instructions:
Make the stock, unless you have some on hand. Chop the vegetables coarsely, and put them in a stock pot along with the reserved onion peels. Add the bay leaves, salt, black pepper, and 4 cups of water. Bring to a boil and simmer for about ½ hour, while you get started on the next step.
While the stock cooks, prepare the vegetables. Heat the oil in a frying pan and sauté onion for 10-15 minutes until soft. Add garlic, parsnips, carrots and celery and sauté for about 10 minutes longer, stirring occasionally, till the vegetables are beginning to soften.
Strain the stock and discard the cooked vegetables or reserve them for another use. Pour the stock back into the stock pot, and add the sautéed vegetables. (Be sure to scrape the pan really clean so you get all the flavorful glazed bits that are stuck to the bottom of the pan.) Bring the soup to a boil and then lower the heat and simmer on low for about 1/2 hour. Cool slightly before pureeing in a food processor or with an immersion blender.
Serve immediately or refrigerate and serve later. This soup also freezes well.
Rivki Locker is just an ordinary mother who tries to cook and eat healthy, and who wants to help others! She has four wonderful children, work very hard, but somehow finds time to cook, photograph and blog. Visit Rivki at Kosher Cooking for Ordinary People and Healthy Eating for Ordinary People.