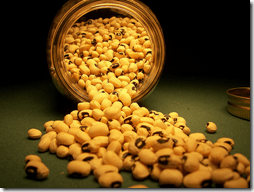 This recipe appears in Lorna Sass's Great Vegetarian Cooking Under Pressure. I can't say enough about this wonderful cookbook. My full review appears here. 
The dish was unusual—sweeter and spicier than I'm used to. Like most bean recipes, the leftovers tasted even better.
Last-Minute Black-Eyed Pea Chili
Ingredients:
1 tablespoon safflower or canola oil
1 to 2 tablespoons coarsely chopped garlic
1 teaspoon whole cumin seeds
2 cups coarsely chopped onions
1 teaspoon dried oregano leaves
¼ teaspoon dried cinnamon
1 cup diced green bell pepper
2½ cups dried black-eyed peas, picked over and rinsed
4 cups boiling water
2 to 3 tablespoons mild chili powder
After cooking add:
One 15-ounce bottle mild or hot salsa (optional)
Salt to taste
¼ cup minced fresh coriander or parsley
Instructions:
Heat oil in cooker. Cook garlic over medium-high heat, stirring frequently, until lightly brown. Add cumin seeds and continue stirring for about 5 more seconds. Add onions, oregano, cinnamon, green bell pepper, black-eyed peas, water (stand back to avoid sputtering oil), and 2 tablespoons of chili powder. Taste liquid and add more chili powder if chili flavor isn't fairly intense.
Lock the lid in place. Over high heat, bring to high pressure and cook for 11 minutes. Allow the pressure to come down naturally or use a quick-release method. Remove the lid, tilting it away from you to allow any excess steam to escape. The beans should be  tender. If not, either return to high pressure for a few more minutes or replace (but do not lock) the lid and simmer until peas are done. If mixture is too soupy, puree about a cupful of peas and stir the puree back into the chili
Stir in salsa to taste (if using) and salt. Simmer for a few minutes to allow the beans to pick of some of the salsa flavor. Stir in the coriander just before using.
I followed most of the instructions, but since I was out of seeds I used cumin. Instead of salsa I added some tomato paste. I also doubled the garlic.
This recipe could easily be made in a regular pot or slow cooker. Cook for 30 minutes, then check the black-eyed peas.
You may also enjoy:
Chickpeas Stewed in Tomato Sauce
Lentils with Onions and Garlic
What Size and Brand Pressure Cooker Should I Buy?
Pressure Cookers for Fast and Frugal Meals