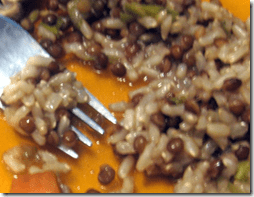 Black lentils are a wonderful delicacy introduced to me by Yosefa. One day she also gave me some leeks that needed to be eaten, so I made this recipe loosely based on one in Lorna Sass's cookbook.
Recipe: Brown Rice with Leeks, Carrots and Black Lentils
Summary: Pressure cooker vegetarian meal-in-one.
Ingredients
1 tablespoon oil
1/2 cup thinly sliced leeks
1/2 teaspoon minced garlic
1 cup long-grain brown rice, rinsed and drained
2-1/2 cups boiling water
1 tablespoon tomato paste
1 carrot, peeled or scrubbed and coarsely chopped
1/2 cup small black lentils, rinsed
3/4 teaspoon salt, or to taste
1/3 cup minced fresh basil or other herb
Instructions
Heat the oil in the pressure cooker.
Cook leeks and garlic, stirring, for one minute.
Stir in the rice, boiling water, tomato paste, carrots, lentils and salt.
Lock the lid, heat to high pressure and cook for 25 minutes. Turn off heat and let sit for another ten minutes. Release any remaining steam.
Add basil before serving.
Quick Notes
You can make these in a conventional pot, but it will need to cook for an hour or more depending on how chewy you like the rice.
Cooking time (duration): 60
Diet type: Vegan
Diet (other): Low calorie, Reduced fat, Gluten free
Dietary restriction: Kosher
Number of servings (yield): 3
Meal type: dinner
Culinary tradition: USA (General)
My rating: 5 stars:  ★★★★★ 1 review(s)