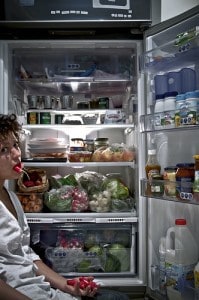 I could live quite well without a dishwasher, crockpot or oven. But no one wants to go back to the days before refrigerators.
Because refrigerators work day and night, they use large amounts of electricity. Here are tips to keep your food fresh and your electric bill low.
Avoid leaks. Clean the gasket (rubber door seal) regularly, as well as the surface that touches the gasket when the door is closed. If the gasket is bent and leaves a gap, a layer of petroleum jelly can soften it and may coax it back in place. If not, replace the gasket or adjust the door.
Fill the refrigerator, but leave room for air to circulate. Cold air exits quickly, foods and beverages retain the cold. Bottles of water work nicely.
Avoid opening the refrigerator. If you can, clear counter space to collecting items and put them all away at once.
Keep your refrigerator at the proper temperature. This is at about 4 degrees C (38-39 F). If the milk is comfortable to drink, it's usually okay.
Keep vents clear, inside and out.
Use a turntable for easy access to small items.
Know your refrigerator. Usually the back is coldest, the door warmest.   Some models have drawers that keep dairy, meat, and fish products at just above freezing. Fresh soups and milk should be kept colder, while items like catsup and dressings that contain preservatives are safe in the warmer part.
Position your refrigerator away from the sun, oven and other sources of heat. Close kitchen curtains when you don't need light. Don't open the refrigerator and oven at the same time.
Leave a few centimeters of space on the back and sides of the refrigerator for ventilation.
Defrost frozen food in the refrigerator for safety. It also cuts your refrigerator costs.
Note: For safety, freshly cooked foods should be stored while hot even though this will make your refrigerator work harder. Older refrigerators use more energy and do not keep food as fresh. New refrigerators have flimsy parts and a shorter lifespan. It may not pay to invest in a old refrigerator, especially one manufactured before 1993. If you are looking to take 90% off the cost of refrigeration, buy a simple chest freezer and adjust the thermostat.
If you like this post you may also enjoy:
How Thermostats Work, or Why Not Bake When the Air-Conditioner Is On
Keep Hot Foods Hot and Cold Foods Cold
Preparing for a Planned Electricity Outage