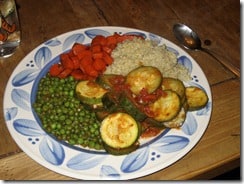 Chaya left this comment on my post When Hosting, How Much is Too Much?:
I am a vegetarian and often face a dilemma when I am invited out.  I don't like to tell my host that I am vegetarian so as not to make them feel that they need to make something especially for me or change their whole menu to accommodate me.  After salad and side dish and bread, I am rarely hungry and I certainly won't be malnourished from one meal.  However, hosts sometimes feel upset if you don't tell them in advance and they have, for example, made a soup with a meat base or they went to great expense to buy an expensive cut of meat which they otherwise would not have purchased had they known.  Any thoughts on my dilemma?
Chaya,  I appreciate that you are flexible about the menu and don't want to inconvenience your hosts. But the answer is clear. You should tell your hosts, as soon as you are invited. And this applies to any dietary restrictions, unless they are minor. I don't mention my allergy to red food coloring and buckwheat. Even then it can be awkward when one of those items is served.
Letting your hosts know about your special diet gives them time to prepare, and more important, a chance to retract the invitation. Maybe they were planning to serve a one-dish meat stew, and they'd prefer to invite a vegetarian some other time. And your assumption that there will be suitable side dishes doesn't always hold.
One guest called before the meal to let me know she was vegetarian, just as I was about to heat up the potatoes with the chicken. Thanks to the call, I served them separately. No big deal to me, but I needed to know. There were other non-meat foods at the meal, but this way the guest enjoyed the potatoes too.
I agree with your point about the special cut of meat. Quantity is an issue as well: Hosts buy meat according to the number of guests, and they may not have made enough salads to serve as a main course.
Guests with food restrictions need to be specific about what they will eat. Vegetarian, for example, can mean anything. One guest ate chicken soup, just not visible meat or poultry. Others won't eat any food that's had the slightest contact with an animal product. You can say that the host shouldn't go out of his or her way, and you're fine with bread and salads. This gives the hostess the choice. You don't have to feel bad if she prepares tofu surprise in your honor.
I'm not such a sensitive hostess myself. I don't worry much about my guests starving, and am not offended if someone passes up a dish or two. But no host likes to prepare a meal for a guest who can't eat it.
Readers, have you had guests who failed to inform you about their special diets?
You may also enjoy:
Do You Admit to Guests that the Food Isn't Great?
Keep Hot Foods Hot and Cold Foods Cold
How to Make Patties from Anything and Everything