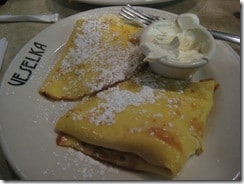 I've been thinking about blintzes, a traditional food served on the Jewish holiday of Shavuot (Pentecost). To make these yummy, creamy, cheese-filled crepes, you fry the crepes, fill them with sweetened cheese, fold them into an envelope shape, and refry. They're not the healthiest choice for a few reasons:
They're fried, twice!
They contain no vegetables or whole grains
They're high in fat from the oil and cheese.
The filling is sweetened with sugar
The crepes are mainly eggs, and the filling also contains eggs. This is a concern especially if you are watching your cholesterol.
But blintzes are traditionally for Shavuot. For many people the holiday is just not the same without them.
There are a few different approaches to this common dilemma.
You can say that the holiday is once a year. You're going to enjoy it and not feel guilty.
You can go to the other extreme and skip the blintzes, which are time-consuming to make, and serve fish or a vegetarian dish with lots of salads and whole grains.
Or you can do something in between—serve the blintzes alongside other less traditional, but healthier, foods. That way everyone can have a taste of their favorites. Another compromise is to make the blintzes healthier, and hope that they still satisfy the traditionalists.
How to make healthier blintzes (cheese-filled crepes)
Use a non-stick pan to make the crepes, spraying oil on the pan in between each crepe.
Use part or all whole-wheat flour. The crepes won't be as thin and crisp.
Use low-fat, or no-fat cheese.
Cut the sugar in the filling.
Fill some or all of the blintzes with sauteed onions or mushrooms, or other vegetables, instead of cheese.
Bake the blintzes in a greased pan instead of frying them in the last step (thanks to Norene Gilletz's Pleasures of Your Food Processor for that tip).
Serve with a marinara sauce instead of white sauce, sugar (!), or sour cream.
What approach do you take when it comes to traditional, yet unhealthy foods?
More Shavuot recipe ideas:
Lentils with Onions and Garlic
I'll post a recipe for blintzes tomorrow.