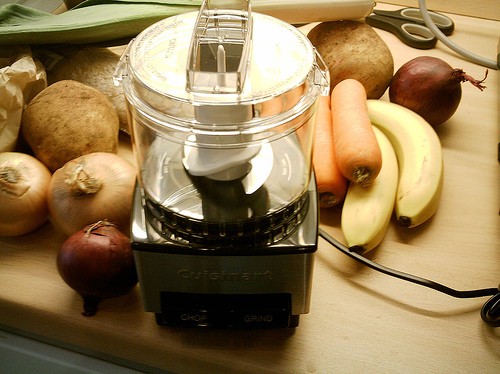 On Sundays at CookingManager.Com, I write about appliances and kitchen equipment. This is Part I of a three-part series on food processors.
My mother loved gadgets, and her all-time favorite was the food processor. She had three: one meat, one dairy, and one for Passover. She bought me a small one shortly after I graduated college.
Some people don't use their food processor because they don't like to clean it. But if you think ahead, you can use it half a dozen times or more without washing. Whether you are making a few dishes or one that combines several ingredients, the key is to plan which will go in first.
Unless otherwise specified, I'm referring to the S-shaped "butterfly" blade that fits in the bottom of the bowl. Your order should be dry, then wet, then oily.
Chop garlic and herbs. Do them all at the beginning in the dry processor bowl, or large pieces will stick to the wet walls. If you will be using it next for vegetables, you probably don't need to wash it out. A bit of garlic won't hurt your coleslaw.
Vegetables. Start with the ones you want finest (smallest) then add the others. Many vegetables can be chopped all at once, like onions and celery for sautéing.  An eggplant salad will be chopped so small that it will practically be mushy. But then you can add the tomatoes, turning the processor on and off once or twice to get chunks. If you want to end up with chunks, the pieces should be cut evenly. Otherwise it doesn't matter, pieces can be cut in different sizes, but each food processor handles vegetables differently.
If your processor is too small for your recipe, chop vegetables in batches and dump them into a bowl. Scrape out the last batch with a spatula, add other ingredients and mix by hand.
You can switch blades without emptying the bowl. Start with the steel blade, than carefully remove it and insert the grater or slicer blade as needed. For coleslaw I chop the onion finely with the steel "S' blade. I remove it carefully, then insert the slicer for the cabbage. Then I switch to the grater for the carrots.
Always rinse after processing potatoes. Otherwise they get gray and hard. You don't need to use soap. Wipe off the machine too.
Recipes containing oil, like mayonnaise and cakes, go at the end. Process drier recipes, like yeast cakes, before moist ones. Save chocolate cake for last.
When you are finished, put the parts in the dishwasher or wash carefully with detergent.
I'll be writing more about food processors in future posts.
Update: Food Processor Basics
If you liked this post you may also like:
Gas Burners: Energy Saving Tips
Pressure Cookers: Tasty, Quick and Healthy Meals
Photo credit: Jodiepedia