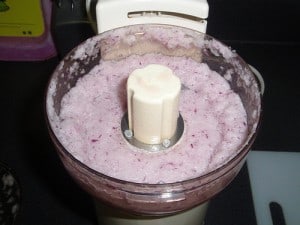 On Sundays I write about cooking appliance and equipment. This is the third in a series on food processors. Click for Part I and II.
Here are a few examples of techniques I use to adapt any recipe to the food processor. All can made in the main bowl with the "S"  or helicopter blade.
Cakes:
Place dry ingredients, including sugar, in the bowl and process until mixed.
Add the eggs and water, milk or juice.
Start the processor and add oil through the feed tube slowly, processing for 60 seconds total.
Honey cakes use a slightly different method.
Cookies or bars:
Process any nuts and put in another bowl.
Mix oil or margarine with sugar and eggs.
Add other dry ingredients.
Process briefly, using the off-on or pulse technique, just until the flour disappears.
Chocolate chips should be mixed by hand.
Potato kugel (pudding):
Place quartered potatoes and onion in the processor bowl. There should not be more than one or two layers. For large quantities process in batches and mix in a large bowl.
Process using on-off turns until the vegetables are all around the bottom and sides. If large chunks are not getting chopped, fish them out and cut them smaller, or process in batches.
Add the eggs, flour, salt and pepper. Process just until mixed.
Click here for a more detailed potato kugel recipe.
Cole slaw:
This is a variation of Blender Coleslaw from Joy of Cooking, a classic published before food processors were invented. It's another example of a traditionally grated food that can be made in a food processor without the grater attachment.
Cut onions, carrots, cabbage and peppers in chunks and process one vegetable at a time.
Add vegetables to a large bowl, and don't worry about remnants in the bowl.
Scrape out the last batch with a spatula.
Add dressing just before serving.
Avocado salad:
Drop a clove of garlic in the feed tube.
Add lemon juice, cumin and ripe avocado scooped out of the peel. Process for a few seconds using an off-on motion.
Add a quartered tomato and process very briefly, leaving the tomato in chunks.
If you are careful you will end up with a chunky, textured salad that lasts longer than most.
Pleasures of Your Food Processor by Norene Gilletz is a great resource. Even though most recipes are too rich, I consult the book for methods. I even used it to write up my neighbor's gefilte fish recipe. Gilletz's subsequent cookbooks are more health conscious.
If you enjoyed this post, you might also like:
Pressure Cookers: Tasty, Quick and Frugal Meals.
Recipe: Portuguese Cabbage Soup
Patties from Anything and Everything (this recipe is so easy in the food processor)