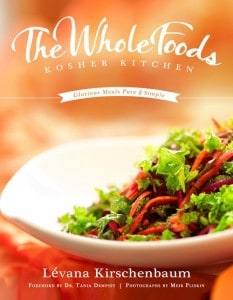 Welcome to the first ever Jewish Holiday Blog Party, hosted by Jessie of Taste and Miriam of Overtime Cook, and sponsored by Kitchen Aid! As you may know, Rosh Hashanah, the Jewish New Year is coming up, and Jewish bloggers from all over the world are celebrating with all kinds of twists on traditional Rosh Hashanah foods.
To kick off the celebration, Levana Kirschenbaum is giving away three copies of her fabulous new book, The Whole Foods Kosher Kitchen. To enter, leave a comment on this post. Limit one entry per reader per blog so click over to the other participating blogs below for your chance at additional entries! Giveaway ends 5 am Eastern time on September 11th, 2012.
Prize is sponsored by Levana and available to readers from all blogs participating in the Rosh Hashanah Blog Party. Prize can only be shipped within the US. 
For the party, I've chosen to include one of my favorites recipes from this blog. I make it all the time and it's very flexible and tasty. Only use the sugar if you're intimidated by the idea of beets. Once you've made this recipe once, you'll find it's sweet enough on its own.
Recipe: Marinated Beets with Ginger and Garlic
Summary: Vegetarian, colorful and tasty salad will wow your guests.
Ingredients
2 large beets or 4 small, about one pound or 500 grams, scrubbed
1/2 cup cooking water from beets (see instructions).
Juice of half a lemon, about two tablespoons
Two tablespoons balsamic vinegar
1 tablespoon fresh ginger, peeled and chopped coarsely
2-3 cloves garlic, peeled and chopped coarsely
1 tablespoon sugar, optional
2 tablespoons fresh chives or thyme, optional
Looking for more Rosh Hashanah recipes? Start with Rosh Hashanah Recipes and Cooking Tips. Then check out these great blogs for more:
Challah and Bread:
Marlene of The Jewish Hostess made Apple Challah
Tali of More Quiche, Please made Roasted Beets and Butternut Squash
Jessie of Taste made Smoked Salmon
Liz of The Lemon Bowl made Beef Brisket
Laura of Pragmatic Attic made Fresh Ginger Honey Cake
Amy of What Jew Wanna Eat made an Apple and Honey Cocktail
Leah of Cook Kosher made Pomegranate Ice Cream
Hope you enjoyed, and don't forget to leave a comment for a chance to win.

Healthy and Tasty Summer Salads
Evaluating the True Cost of Foods