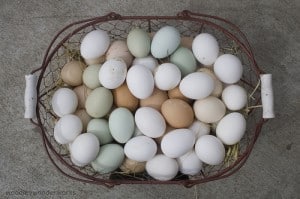 Wednesday is Recipe Day at Cooking Manager.For the next few weeks I'll be sharing gluten-free, Passover recipes.

Matzah balls are the classic accompaniment for Passover soups, but these gluten-free egg noodles make a tasty alternative. I make a double batch before the holiday and they keep all week long. But they usually get eaten first.
Passover Egg Noodles
Ingredients:
4 eggs
4 tablespoons cold water
1 tablespooon potato starch (for gluten-free) or matza cake flour.
Dash of salt
Instructions:
Place all ingredients in a mixer, blender or food processor and mix until smooth (not whipped). Or lightly whisk the eggs in a bowl, then add the other ingredients and blend.  Place in a cup with a spout. Heat a well-greased or lightly greased non-stick frying pan. Pour the batter into the pan in a thin stream. Tilt the pan to distribute the batter evenly in a thin layer. When the top is no longer shiny, flip the "pancake" onto a tea towel and start the next one. Try not to let them get crisp. Roll up each pancake and cut into strips to make noodles.
Tips:
The flour may settle at the bottom of your cup, so keep a fork or whisk handy to mix it up. If not, don't worry, but the ones at the end will be a little heavier.
Test the pan by adding a drop of batter. If it sizzles, it's hot enough.  Use medium heat.
It takes practice to add the correct amount of batter. Don't worry about the shape, because it won't matter once noodles are cut.
If you have a silicon pastry brush, it's handy to spread oil on the pan as needed.
Drop noodles into soup just before serving.
This recipe was adapted from Jewish Cookery by Leah H. Leonard.
If you enjoyed this post, you might also like:
Five Basic Recipes for the Food Processor
Photo credit: http://www.flickr.com/photos/wwworks/ / CC BY 2.0