Please welcome Leah Gabrielle Goodman for today's guest post.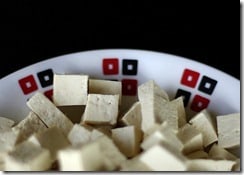 When you talk about vegetarianism to many people, they imagine eating salad and tofu. Perhaps they've seen a tofurkey or two in their day, but they don't realize how many non-meat options can can be substituted in recipes.
Meat Substitutes
Zucchini as Liver?
Much of the flavor of a good chopped liver comes from the onions. Grill a zucchini, add fried onions, mash well, and it's not quite chopped liver, but it'll go great on crackers. Add chunks of walnuts for some protein and a little more texture.
Eggs
Not for the vegans among us, but eggs are great protein. Adding fried egg to a stir fry gives it the protein and some of the texture that you'd expect in a meat stir-fry. Eggs are also usually a good bit cheaper than meat or chicken. I usually add one egg per person.
Soy
The frozen stuff, such as Morningstar Farms or Green Giant often tastes pretty good, but costs a lot. Textured vegetable protein (TVP) is much cheaper. It starts out looking fairly unpalatable, but if you use it in the right recipes, it's great. Use the finely ground TVP in a spaghetti sauce for a texture like bolognese. Use the bigger chunks in chili. You can even use it in stir fry, though you'll need to soak it in hot water and then squeeze the water out before you put it into the pan.
How to Use Tofu
Tofu has a weird texture and its flavor isn't all that pleasant either, but there are some good ways to make tofu taste better. Try a marinade of soy sauce or teri yaki. After marinading it in soy sauce, it needs no further cooking. Stir-fry also makes tofu more palatable. It will take on the flavorings you add in, and it'll add a nice texture.
Dairy Substitutes
Coconut Milk/Cream – In sweet recipes, it adds a richness of flavor that you don't get when you substitute soy milk. I've tried it in pumpkin pie and chocolate cake, and both times, the flavor is incredible.
Olive Oil – If the recipe calls for butter a butter-flavored margarine can work. But if you're dealing with a savory recipe, then unless you need the texture, olive oil is a good option. It will obviously change the flavor of the food, but it won't clog your arteries and will give the food a better flavor rather than detracting from the flavor the way that margarine can. This is particularly good if you're trying to "kosherize" a meat recipe that calls for butter.
Other Vegetable Oil
If you're dealing with a sweet recipe, try oil. You might need to look up a different recipe for the same food. For pie crusts, for example, oil-based crusts are easier to work with than butter/margarine crusts. For cookies, the butter might be needed to hold the cookies together, so you might not be able to substitute with oil. If the recipe doesn't call for eggs, be wary about using oil in place of butter.
Leah Goodman is a Work at Home Mom with two kids, who just opened her own business, SimchaVideos.com. She blogs at http://trilcat.blogspot.com.
You may also enjoy:
Hosting Is Not for the Faint of Heart: Accommodating Special Diets
Vegan Response to Dangers of a Vegan Diet
Rice Pudding in the Microwave (Gluten-Free)
Photo credit: House of Sims