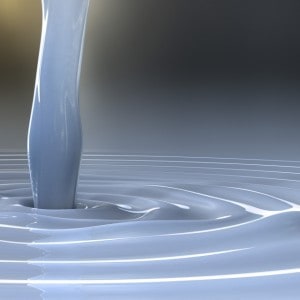 Blintzes are traditionally served on the Jewish holiday of  Shavuot (Pentecost). Yesterday, I wrote about making blintzes or other holiday foods healthier.
When I was growing up, my mother often served Empire frozen blintzes. When she first made them from scratch, almost certainly from Norene Gilletz's book The Pleasures of Your Food Processor, the family said they preferred the Empire so she never make them again. Fortunately, we like them homemade, and my teenage daughter has taken over this annual job.
Cheese Blintzes,  by Dorothy Mandelzweig

Makes 16-20 blintzes, depending on the size of the pan.
Batter for crepes:
2 eggs
1 cup flour
1½ cups water
Method:
Beat eggs lightly in a bowl.
Add half the flour, then half the water, mixing thoroughly all the time. Add the rest of the flour, then the water. [I use the food processor.] Strain lumps if needed.
Allow to stand for 30 minutes.
Lightly grease a pan with a film of oil.
Heat pan and pour a little batter into the center. Swirl it until the whole pan is covered, and pour back excess.
Cook batter for one minute and turn onto a clean kitchen towel.
Brush pan and add more batter, until it has all been used up.
Filling ingredients:
250 grams (8 ounces) firm white cheese.
2 egg yolks
Sugar and salt to taste
Pinch cinnamon
Instructions for filling:
Mix all ingredients wll.
Place heaped teaspoon of filling on each crepe.
Roll over once, tuck sides in, and finish rolling.
Fry in hot oil until brown on each side. Or brush a pyrex dish with oil, place blintzes in dish, brush top of blintzes wth oil and bake in very hot oven (200° C/400° F) until golden brown.
Image: Francesco Marino / FreeDigitalPhotos.net
You may also enjoy:
Interview with Robin: Brightening a Bleak Culinary Landscape
Five Recipes for the Food Processor