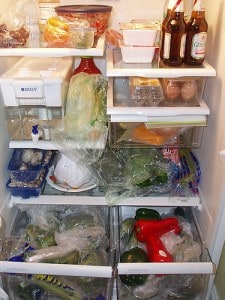 Today is Thanksgiving, and that means company. Company, of course, means food and cooking.
Back when I reviewed Jonathan Bloom's book American Wasteland, I mentioned his contention that large refrigerators lead to more waste.
I agree that large refrigerators tend to be wasteful. Not only because you end up storing more than you need, and losing things in the back, but because you are cooling the refrigerator 365 days a year when you only use it to maximum capacity ten days a year.
But what do you do when houseguests turn up or you are hosting a dinner party, and you wish your refrigerator would just stretch?
Follow these tips and you may save yourself some money next time you need a new refrigerator.


Throw out old food and use up the rest. If you are cooking up a storm for a crowd, you don't want all those leftovers hanging around.
Get rid of excess varieties of dressings, mustards, sauces and drinks. These are what tends to take up the extra space.
Take foods out of the refrigerator when possible, like apples and oranges. Tomatoes, onions and potatoes should always be stored at room temperature.
Transfer foods to smaller containers when possible. 
Ask the neighbor for some refrigerator space. Or perhaps you can borrow the refrigerator in your church, synagogue or community center. Always ask permission and label your food carefully.
Avoid storing the cooked food for long stretches. For instance, when hosting for a weekend plan plan to cook one of the later meals in the slow cooker. Cooking one meal at a time, with careful planning, works better here than cooking three days' worth of food in advance. Chill drinks a few hours before they will be needed.
Be relentless about getting rid of leftovers, by offering them up at the next meal or to a hungry family member. If you have a small amount, put it in a small bowl or as one option in a divided serving platter.  Containers of small amounts of leftovers will fill up the fridge quickly and are likely to get spoiled.
Get one or more ice chests for storing food that won't fit. They're much cheaper than the cost and maintenance of a larger-capacity refrigerator, and they don't take up room in your kitchen when you don't need them. And they'll come in handy for an electrical outage.
If all else fails, rent a small refrigerator. You could also buy a used one and resell it at a similar price.
Some people store an extra refrigerator and turn it on only a few times a year. That can work, if you don't need that space for other things. Keep in mind that older models are notoriously inefficient. And if it's in an out-of-the-way place you'll want to check on it regularly to make sure it's working properly.
Have you ever run out of refrigerator space?
You may also enjoy:
Image: konomike