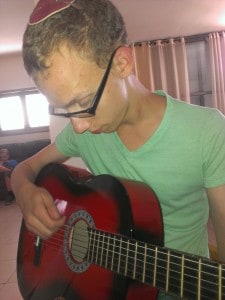 My son became a vegan just a few weeks ago. After graduating high school last spring, he decided to spend the year volunteering in a town with a low socio-economic population. He and the other teens in his program volunteer during the day, and cook together in the evening. My son helps weak students in a high school in the morning, and works with immigrant children in the afternoon.
Four of his fellow volunteers are vegetarian, and one is a vegan. According to my son, she is the best cook in their group. After attending a festival for vegans, my son decided to become a vegan too.
Two of my children have been vegetarian for several years, so I have experience. But they are easy−they eat everything that is not actually meat or fish, including chicken soup. They pick out pieces of meat and put them aside. So as long as I don't make something like a ground-turkey casserole with no side dishes, they'll do okay.
But my vegan son doesn't compromise. Not only does he avoid meat and fish, he won't touch small amounts of egg or dairy. Frankly, I was upset with him for not giving me enough warning, especially when I had a full house in the middle of the Jewish holidays.
But I got a surprise in the end. On the eve of the holiday he took out a piece of paper, and started writing up menus. He collected the ingredients and cooked vegan dishes, while I cooked the chicken and the chicken soup. This scenario repeats itself every time he comes home now, about every other weekend. So while I have lost a meat-eater, I've gained a co-chef. My vegetarian daughter also makes one or two dishes.
One of the first recipes he made after becoming vegan is this classic orange soup. The recipe, by Oz Telem, appeared in Hebrew on XNet. It makes enough for 6-8, but can easily be halved.
Vanilla-Scented Orange Soup
Author:
Prep time:
Cook time:
Total time:
Vanilla-scented orange soup, with blended root vegetables.
Ingredients
1/2 cup olive oil, divided
600 grams pumpkin or other orange squash, cubed
Medium sweet potato, peeled and cubed
Small butternut squash (400 grams), peeled and cubed
2 carrots, peeled and sliced thinly
4-6 garlic cloves
2 tablespoons whole oats
1 vanilla bean or 1/2 teaspoon vanilla extract (see spice variations)
Salt
Coarsely ground black pepper.
Instructions
Heat 1/4 cup oil in a large pot, reserving the rest for the end. Add the orange vegetables, garlic, and oats. Saute for about five minutes on medium heat.
If using the vanilla bean, slice it lengthwise with a sharp knife on a cutting board. Scrape out the seeds, then add the seeds and the pod to the soup.
Cover with water, just to the level of the vegetables.
Brring to a boil, cover, and simmer for 30-40 minutes. The largest of the vegetables should be soft enough to pierce easily with a fork.
Remove the vanilla bean. While adding the remaining half cup of oil, process the soup with a stick blender until smooth. Adding the oil thickens the soup.
If using vanilla extract, add it now.
Add salt and pepper to taste.
Notes
Seasoning variations to replace vanilla:[br]1. Curry powder.[br]2. Fresh sprigs of thyme, rosemary, sage and oregano. Remove before blending.[br]3. Spices such as cardamom, cinnamon, nutmeg, coriander seeds, or allspice.
Most recipes on Cooking Manager are vegan or vegetarian. Here are some you can try:
Brown Rice with Leeks, Carrots and Black Lentils
Super-Bowl Recipe: Avocado-Bean Salad