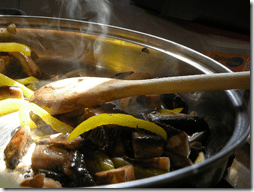 Which is better—cooking each meal fresh, or cooking in bulk and freezing for future meals? Cooking in bulk is generally viewed as more efficient. However, there are important advantages to cooking fresh.
Keep in mind that the options are not mutually exclusive. You can prepares some things in bulk, like rice, sauce or chicken stock, to use as part of a fresh meal.
In the table below, I analyze the considerations for each method.
| | | |
| --- | --- | --- |
| | Cooking Fresh | Cooking and Freezing in Bulk |
| Time | Take out ingredients, measure them and cook each time. | Deal with the ingredients and cooking utensils only once. |
| | Clean up each time. | Clean up once for several meals. |
| | Smaller block of time required for preparation. | Allow larger block of preparation time, which may be difficult with small children underfoot. |
| | Heat up one time only. | Take into account defrosting and reheating time. |
| | Time-saving appliances, like food processors, may not be worth the trouble. | It pays to take out, operate and clean time-saving appliances. |
| Flavor | Fresh tastes best! But some dishes like those with beans or some marinated salads improve after a day or two in the refrigerator. | Freezing sacrifices some nutrients and flavor. |
| Safety | No time for food to spoil. | Food can gather bacteria if not put away promptly, and large quantities take longer to cool off. After defrosting food deteriorates more rapidly. |
| Leftovers | Can be refrigerated or frozen, as desired. | Cooked foods that have been defrosted should not be refrozen. |
| Convenience | An experienced cook can usually pull one meal together with food on hand. | Needs more advanced planning for shopping. |
| | Use family-sized cooking and storage utensils. | May need to own larger pots or extra baking utensils and  more storage containers. |
| | Likely to have utensils on hand. | May need to rely more on disposables for cooking, baking and wrapping. |
| Space | No need to worry about storage space, as most gets eaten right away. | Must have room available in freezer. |
| Energy Usage | Energy is used each time a meal is cooked from scratch. | Filling up oven or larger pot with several items usually saves energy, but freezing adds to energy use as does reheating the food. Always defrost in refrigerator for safety and efficiency. |
| Pitfalls | Last-minute emergencies, running out of ingredients. | Forgetting to defrost, or miscalculation of defrost/reheating times, inexperience when cooking large quantities lead to mistakes. |
You may also enjoy:
Do You Admit to Guests that the Food Isn't Great?
Ripening Sourdough: Images at Various Stages